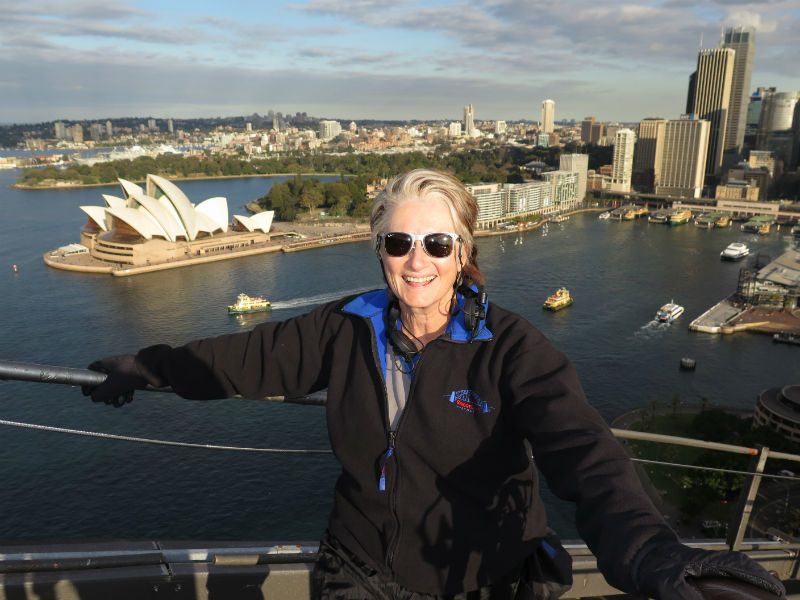 Professor Kerryn Phelps, former President of the Australian Medical Association and Centenary medal recipient, enjoyed a Sydney Harbour Bridge Climb
The esteemed Phelps AM was the first woman and the first LGBT person to be elected as President for the AMA. Before being elected, Phelps focused on bringing attention to living a healthy lifestyle to the general public. During her time with the AMA, Phelps played a significant role in working with both state and Federal Governments to help resolve a medical indemnity crisis.
She also focused much of her time establishing a committee on Indigenous health and promoting the importance of the public health system.
Always an academic, Phelps listened intently to her Climb Leader's historical anecdotes and fascinating facts surrounding the Bridge and its creation. She found most interesting the fact that when Australian engineer Dr. John Bradfield first conceived the idea for a bridge across the harbour, there were only five privately registered cars in North Sydney.
The Sydney Harbour Bridge Climb has been a popular destination for tourists and residents alike since 1998. The experience offers the climbers a chance to experience the Sydney Harbour as never before. Standing 134 metres above the sparkling harbour, each climber can view the city in a panoramic setting.
Professor Phelps left the Bridge Climb saying "Sydney Harbour Bridge is a 'must do' on your bucket list."
For more information on your chance to climb the Sydney Harbour Bridge, click here.