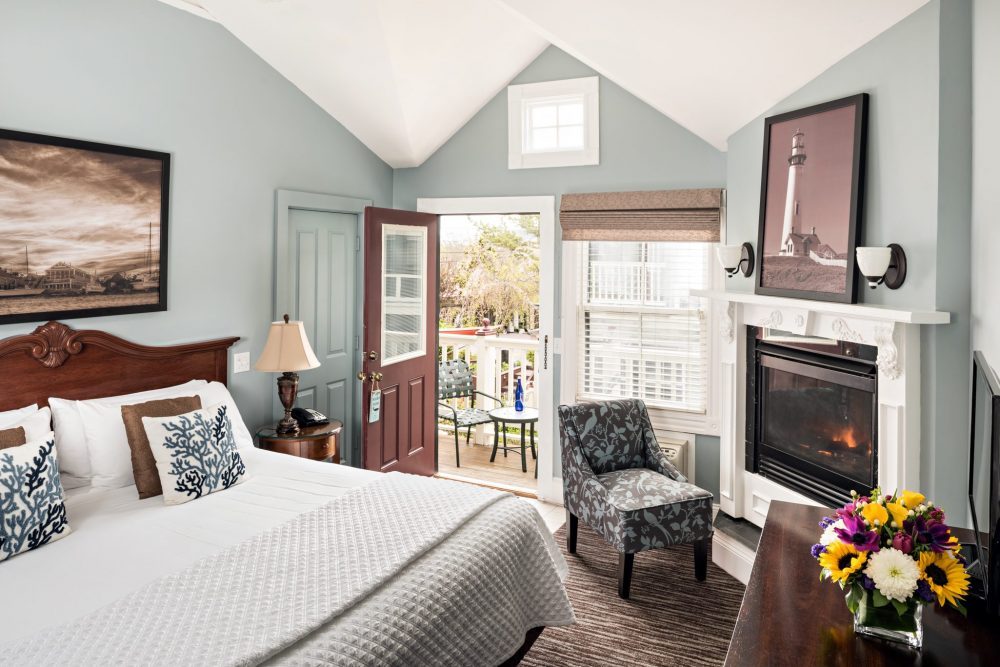 The P-town property flies the rainbow flag all year round for LGBTQ guests, and welcomes you this summer.
Provincetown, on the northern tip of Cape Cod, Massachusetts has a legendary status as the seaside home away from home for America's LGBTQ community, and this is enhanced in no small way by the many gay-owned inns and guesthouses that proudly fly rainbow flags welcoming LGBTQ travelers from all over the country, and all year-round—but especially in summer.
Crowne Pointe Historic Inn & Spa  is one of these lovely establishments, and it's also one of America's historic inns, standing proudly on the hill at 82 Bradford Street, and within easy walking distance of all the action on Commercial Street. The distinctive property has 30 rooms to choose from, decorated in coastal luxury style, set within Cape Cod cottage-like grounds with a classic New England garden.
The inn's amenities include free Wi-Fi, widescreen TVs, and complimentary wine and cheese happy hour for guests from 5PM to 6PM each day. The friendly staff will also direct you to the best places to wine, dine, and even dance the night away, if you so desire. A hearty breakfast is served daily and is included in room rate. Start with coffee, juice and continental breakfast buffet while waiting for your freshly cooked breakfast—whiteboard options include quiche, pancakes, wraps or a classic American breakfast of eggs and bacon.
The pool area is perfect for catching some rays and socializing (there's also a heated outdoor soaking tub). The Club Room is perfect for relaxing in cooler or inclement weather—and being on Cape Cod, Provincetown is no stranger to passing storms, gusty days, or a shower or two.
It's good to know the inn has indoor spaces for relaxing, such as the Shipwreck bar—and there are fireplaces in most rooms, not to mention BainUltra air jet bathtubs, perfect for some in-room hydro thermo-massage. The outdoor pool and soaking tub are open 24 hours, which is good news for girls coming back from the festivities or clubs on Commercial Street, a day at Herring Cove (P-town's gay beach) or events such as Girl Splash. 
Good news for romantic couples and brides-to-be in search of some pampering: Crowne Pointe Inn has launched its fully-equipped onsite spa, Shui Spa, which is the first exclusively Kiehl's hotel spa offering all Kiehl's products and treatments. Whether you avail yourself of the spa or not, you will enjoy in-room Kiehl's bathroom amenities, such as the Deluxe Hand & Body Lotion with Aloe Vera and Oatmeal in grapefruit scent. But you should certainly try the spa!
Shui Spa offers a full menu of treatments including the Superbly Restorative Massage (60 minutes, $129). This deep tissue massage is highly recommended to relax tense muscles while hydrating skin and improving circulation. We were delighted to experience Kiehl's Midnight Recovery Concentrate blended with massage oil—a lavender-scented miracle worker that promotes a soothing night's sleep.
After your massage—which might be in one of the spa's treatment rooms or in the outdoor massage cabana (couples massages are also an option)—relax in the spa's indoor soaking tub, or enjoy a steam or sauna.
The Kiehl's company are advocates for the LGBTQ community with a strong focus on HIV/AIDS research, environmental issues and children's wellbeing. They have a history of giving back to our community—especially with charity drives such as the Kiehl's LifeRide for AmfAR, a fundraising event to help find a cure for AIDS.
There are many restaurants in Provincetown to choose from, and if shellfish is your thing, take advantage of the raw bar happy hours at Victor's, just a short walk from the inn, or at Spindler's on Commercial Street. Wellfleet oysters are a local delicacy you must try! The inn also has a restaurant (open Wednesday to Sunday) called The Pointe, offering all farm-to-table and pier-to-table menu options sourced locally, such as fresh lobster.
Getting there: Take the Provincetown Ferry from Long Wharf, Boston, with Boston Harbor Cruises. If you drive, parking can be arranged by the inn either on-site or across the road at their convenient car lot.
Coming up in Provincetown: Girl Splash, July 18-22, 2017—Featuring lesbian entertainers galore: Kate Clinton, Suzanne Westenhoefer, and Vickie Shaw! Laugh out loud. Hold hands without fear. Attend amazing parties, beach bonfires, and go all-women whale watching. The village is your oyster in P-town! Schedule and tickets here.
For lovebirds, Provincetown is also hosting the second annual Bride Pride, the world's largest all-girl wedding and renewal ceremony on July 22, 2017. To be world-famous wedded women, register here.
P-town is a place that once visited is never forgotten, and possibly never equaled when it comes to LGBTQ-friendly destinations. It's our town, with depth, diversity, and beauty as perennial as a P-town sunset. To begin planning your visit, go here.