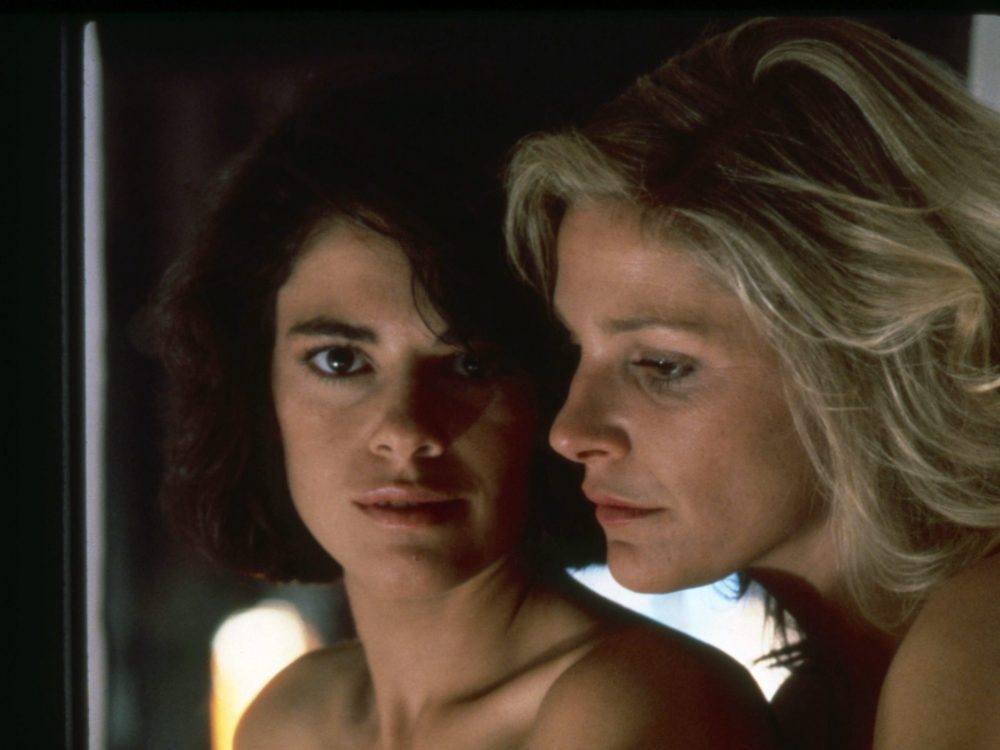 The landmark, award-winning lesbian romance 'Desert Hearts' returns in a brand-new restoration
Based on the 1964 lesbian-themed novel Desert of the Heart by Jane Rule, Desert Hearts stars Helen Shaver and Patricia Charbonneau with a stunning supporting performance by Audra Lindley. Set in Nevada in 1959, the film tells the story of Vivian Bell (Shaver), an uptight and reserved 35-year-old English professor at Columbia University in New York City, who travels to Reno for a quickie divorce, which takes six weeks.
Vivian stays at a guest house ranch owned by the salty Frances Parker (Lindley) and encounters feisty and young Cay Rivvers (Charbonneau), a headstrong sculptor with a reputation for wooing women. Their attraction to each other is instantaneous but problematic.
Cay works at a Reno casino as a change operator and is trying to extract herself from a relationship with Darrell, her boss, while Vivian is at first affronted by Cay's boldness—especially when she reveals that she has had relationships with women in the past. To complicate things further, Frances becomes jealous of Vivian and Cay's friendship—Cay is her only "family," the daughter of her past love, Glenn.
Will Vivian let Cay love her? What will happen if they give in to passion? Will Vivian be just another notch in Cay's bedpost? Will their relationship be accepted by Frances and their friends? Do they have any kind of future together in 1959?
If you found the movie Carol—which is set in a similar timeframe and raises similar themes—to be lacking in emotion and natural warmth, you will enjoy this luminous, heartwarming love story with a Western backdrop and touch of Patsy Cline. The scene in which Cay and Vivian encounter each other for the first time is uncontrived and exciting, and a sure highlight in lesbian cinema.
Desert Hearts also has one of the sexiest big-screen love scenes ever filmed between two women—and one that is yet to be beaten. That scene, which was filmed on the 30th day of a 31-day shoot, sizzles with authenticity and emotion. And while we discuss the problem of dismantling the "male gaze" today, Deitch found a way to do it back in 1985.
"That scene is a standout scene and I still think it works," director Donna Deitch told LOTL last year. "I think it's part of the reason the film holds up as a universal love story and all sorts of different people relate to it."
Desert Hearts has been described as a "sociological icon" by The Advocate news magazine and it has picked up numerous awards and accolades including the Special Jury Prize at Sundance 1986. Last year, for its 30th anniversary, The Museum of Modern Art released a new 35mm print for a series of screenings, which stars Helen Shaver, Patricia Charbonneau, and celebrity guests attended.
"There are many women who come up to me everywhere where there are screenings, and they know who I am, and they start to tell me these personal stories—and this has been going on for three decades," says Deitch.
As a lifelong lesbian-feminist artist, Deitch was inspired and determined to make the film in response to the ubiquitous negative and doomed portrayals of lesbian love in mainstream culture.
"Every film I'd seen about two women in love or falling in love or afraid to fall in love, always ended up in a bisexual triangle or suicide. And so I wanted to make a universal love story that happened to be between two women. Because that sort of seemed to me quite normal. I didn't really see why people ought to kill themselves or become heterosexual just because they were falling in love with somebody of the same gender."
And Desert Hearts is credited with being the first lesbian-themed feature film in which the protagonists [spoiler alert!] don't die or 'settle' for relationships with men. Deitch's vision and fortitude over 30 years ago claimed a stake in the commercial film industry, proving that lesbian love stories have a place on the big screen as entertainment and art.
If you missed the film at the cinema 30 years ago, see it now and be a part of lesbian film history.