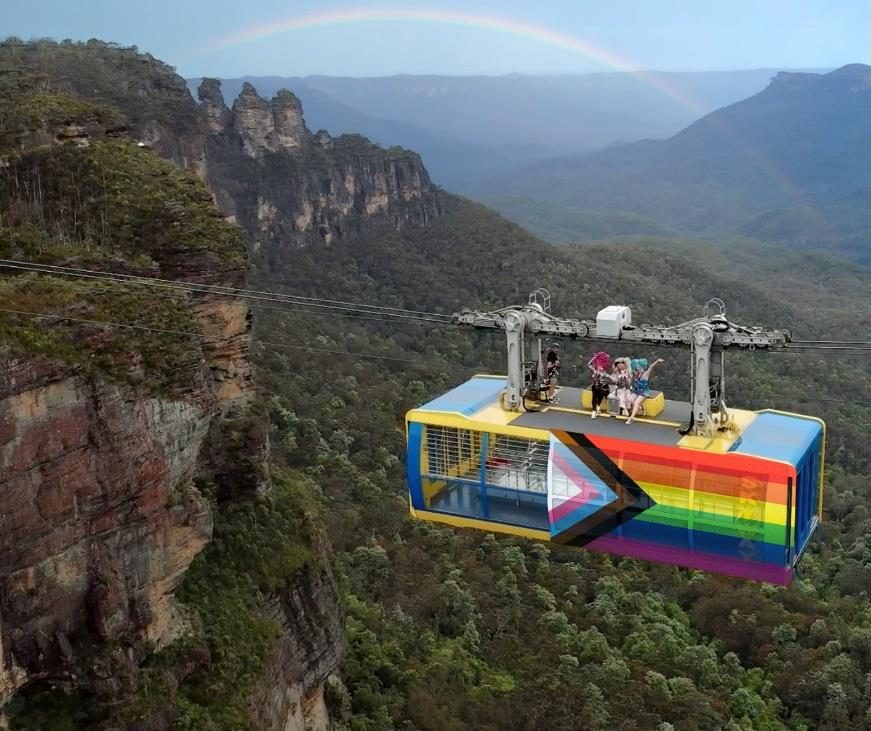 From 10 February – 5 March 2023, Scenic World is proud to be celebrating Sydney WorldPride 2023 in ways that anyone and everyone can feel part of.
Float atop the Progress Flag and enjoy an uninterrupted 360-degree view above the Jamison Valley, strut the runway of the Scenic Skyway with a Drag Queen, ride the world's steepest railway with a Drag King, and more.
Scenic World Managing Director, Anthea Hammon, says Scenic World is thrilled to host a flag as part of Sydney WorldPride's Rainbow City project.
"Showcasing the Progress Rainbow in a regional centre like the Blue Mountains is a privilege – visitors during Sydney WorldPride can experience more of our beautiful country without leaving the celebrations, and our local LGBTQIA+ community can feel part of the bigger celebrations," said Anthea.
"We're also proud to be partnering with Platform Youth Services to raise funds for youth at risk so they can be included in this year's Mardi Gras celebrations and have limited-edition merchandise designed by Bradley Pinkerton as part of our fundraising efforts," she said.
Celebrate like nowhere else on earth at Scenic World between 10 February – 5 March:
Snap a shot of the progress skyway
Scenic World is hosting one of the 45 rainbows from Sydney WorldPride's Rainbow City project, which will be live during the festival. In a world-first spectacle, visitors to the Blue Mountains will see the Scenic Skyway wrapped in the Progress Flag.
Suspended 270m above the ancient ravines of the Jamison Valley, the Skyway will be seen travelling back and forth against the backdrop of the iconic Three Sisters and majestic Solitary Mountain. The best spots to see the Progress Skyway in action and take photos are free – from lookouts along Reids Plateau in Katoomba.
The Progress Flag will be displayed from 10 February until 5 March 2023.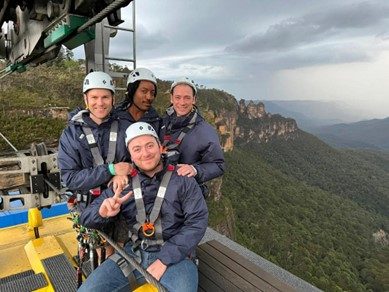 Create lasting memories on the beyond skyway pride ride
It's one thing to snap a photo of the Progress Skyway in the Jamison Valley; it's another to be standing on top of it for the photo.
Experience the world's only rooftop cable car adventure adorned with the Progress Flag on the Beyond Skyway Pride Ride.
Beyond Skyway is a world-first, premium experience that allows up to four guests to enjoy twilight views 270m above the rainforest canopy. The Pride Ride Beyond Skyway is an intimate experience perfect for marking a special occasion or for creating once-in-a-lifetime memories. Sessions include long-lens photos* so guests celebrate Sydney WorldPride with the most fantastic memento to go with the incredible experience.
*In low visibility conditions, the cost of the photo package will be refunded
Soak up the sounds and smells of the rainforest
On 18-19 February, enjoy performances from local Drag Queens and Kings as they ride the world's steepest train with a Drag King, walk the Progress Skyway runway and roam the rainforest, have your face painted with a rainbow, and more family-fun activities.
Celebrating pride in the Blue Mountains fills me with hope, happiness and optimism, says Elle Virus, Drag King and Blue Mountains resident, who will perform during the weekend.
"It reassures me that the world is changing for the better and gives me the space to respect and admire all those that came before us, who had to battle to be their authentic self, and those who continue to facilitate change," said Elle.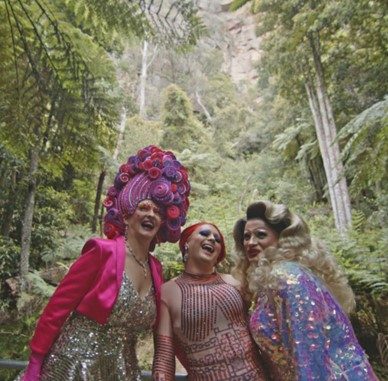 Donate to youth at risk
Scenic World is working in partnership with Platform Youth Services, a local Specialist Homelessness Service that works with young people who are at risk of or experiencing homelessness. As part of Sydney WorldPride, Platform is raising funds to give local LGBTQIA+ young people a chance to experience a Mardi Gras Viewing Party.
Emma Jordan, Manager – Assertive and General Outreach, Transitional Housing and Premiers Youth Initiative, Platform Youth Services said: "The amazing donation from Scenic World will assist us in supporting all LGBTIQIA+ young people to feel connected and celebrate WorldPride with their community."
Grab a limited-edition souvenir
Melbourne-based Bradley Pinkerton, an independent graphic designer specialising in creative branding, print and art direction, has created designs for Scenic World merchandise. A percentage of proceeds will go towards Platform Youth Services.
Bradley Pinkerton said: "The designs I developed are an abstract riff on two of the Blue Mountains' most iconic flora and fauna— the Waratah and Rosella. It's great to know that a portion of sales from the range I created for Scenic World contributes to getting a group of at-risk LGTBQIA+ youth to their first-ever Mardi Gras celebration.
Connecting with the community is essential; I hope they have the most beautiful time."
Bradley's studio produces expressive, thoughtful, and distinctive work for the arts and music sectors. His clients include Harry Styles, Vogue Magazine, The Weeknd, Maggie Rogers, Gang of Youth and more.
For more information and tickets, head to scenicworld.com.au/pride
Tickets are limited – book early to not miss out. Beyond Skyway Pride Ride sessions run from Thursday- Saturday.
Scenic WorldPride weekend and Beyond Skyway Pride Ride are Pride Amplified events.