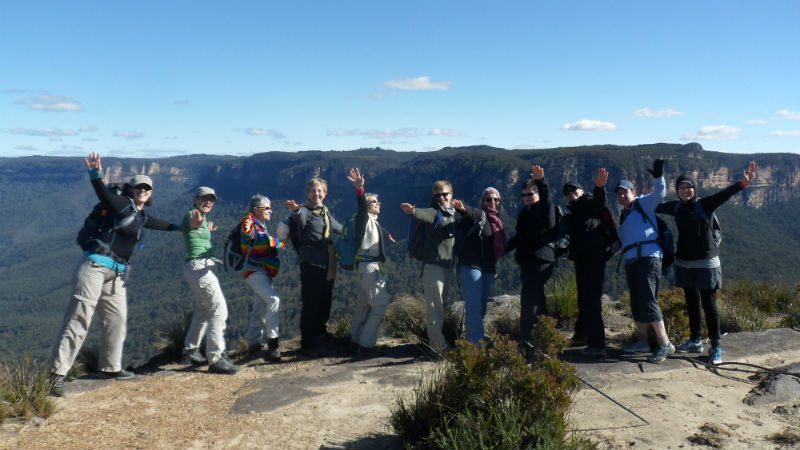 In 2016, Bush Lemons celebrates their 20th anniversary – with over 300 hundred members.
Twenty years is a very long time for any lesbian relationship. In 2016, Bush Lemons celebrates just such a milestone – with over 300 members. The Blue Mountains lesbian bushwalking group has been striding from strength to strength and are now gearing up to celebrate their 20th anniversary.
In 1996, Jocelyn Williams approached the team at Mountain Lesbian News and offered to put on a bushwalk to the Kedumba Valley. Six women went out for the day, and Bush Lemons was born. In the early days, there was a bi-monthly walk. Today, there is a walk or other activity on most weekends.
Bush Lemons activities are offered to suit all fitness levels; from easy, ambling walks, to challenging day and multi-day backpack adventures in the Blue Mountains and beyond.
"We also undertake kayaking, abseiling, overnight camping and cycling trips," explains Jocelyn.
"Spectacular bush, gorgeous views, keeping fit and a social outlet is what we offer all lesbians who want to come along," Jocelyn says. She adds, "About half of our members live outside the mountains."
"All of our walks and activities are organised and led by a member, and its these women volunteers who are the unsung heroines of our group."
Two years ago, Bush Lemons spawned a sister group called Macro Lems. Macro Lems is tailored to photography-obsessed lesbians who prefer to meander slowly along a track, discovering the brilliant minutiae of the bush. Macro Lems' stunning photography is showcased in an annual exhibition.
In 2004, Bush Lemons began entering teams in endurance walks. Oxfam Trailwalker, Trek for Timor, Coastrek and Seven Bridges have all had Bush Lemons participating.
"Endurance walking is a great way to increase fitness and achieve personal challenges, but the most wonderful results are the friendships forged in training and in the support and commitment amongst the team," Jocelyn says.
Along the way, Bush Lemons have raised over $50,000 for Oxfam Australia alone.
Bushwalking is uplifting, joyful and empowering. Love of the bush and lifelong friendships grow from the sweat of the walk and the knowledge that women really can do anything.
Bush Lemons will have a stall at this year's Mardi Gras Fair Day and will also be participating in the parade on 5 March.  There is a rumour that the Lemons will be doing a bit of a trekking pole routine in the parade – we will have to see!
The last two decades, and many more yet to come, will be celebrated at the Bush Lemons 20th anniversary weekend in May.