Saddle up – gay rodeo is the next big outdoor adventure for lesbians.
Turning off the freeway near a small town in the desert, we followed the female voice of the GPS, over the railroad tracks and down a dirt road heading into the mountains. We parked at the base of a hill in an unpaved lot with pickup trucks and horse trailers, not sure exactly what we would find at the top, where dust was rising against the stark blue sky.
My partner turned to look at me excitedly. Then I heard it—the distant thunka-thunka of a gay club that meant everything would be fine.
We put on the matching straw hats we'd bought in Mexico, crested the hill, gravel crunching under our boots, and got our first glimpse of the weekend ahead of us. On a concrete dance floor, hairy guys in tight tanks were two-stepping to Katy Perry. Vendors were peddling everything from cowboy boots to glittering gowns to barbecue pork. And in the air, the smell of livestock. This was gay rodeo!
With over 5,000 members and 24 local associations in North America, the International Gay Rodeo Association (IGRA), the world's largest, has existed since 1985. In many ways, it's a lot like any other rodeo—there's roping and riding, horses and bulls—but gay rodeo was explicitly created to welcome LGBT (and heterosexual) participants and spectators and, to encourage both men and women to compete in every event, whether it's pole bending or bull riding. Yup. The IGRA has female bull riders.
At Hot Rodeo in Palm Springs in May, I sat down with Sara Simunovich to talk about bull riding. She was icing her arm after finishing up with a 2,000-pound so-called junior bull that had thrown her clearly but tapped her calf with his hoof on the way down.
"I got stepped on in San Diego and kicked in Phoenix.  I should have broken my leg in San Diego. I don't know how I didn't. I underestimated how much that would hurt," she says.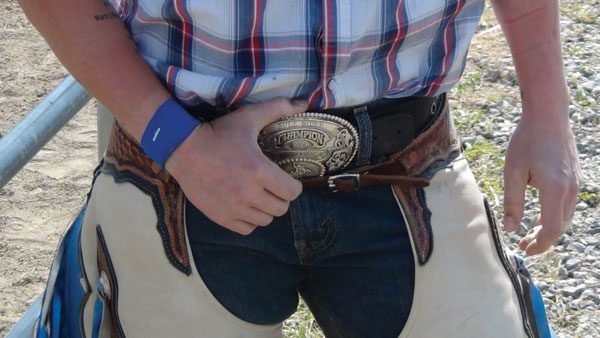 Sara is lean—5 feet 2, 125 pounds in her signature "cowboi" studded chaps. Seeing her laughing and joking about a 1-ton bull stepping on her was incredible. Given the ease with which she talked about riding, I assumed she'd grown up with it, but Sara is relatively new to the sport. About five years ago, she went to a bull-riding workshop and found herself in the throes of a new passion.
"It's crazy—I mean, I love it. It's, oddly enough, one of the most challenging things I've ever done in my life. It's so much mental. It's so much physical. You can psych yourself out of it in a second just by a million things."
It's not just the bull riding that keeps Sara coming out weekly.
"It's like a second family. Everyone takes care of each other. Even though some people might compete against each other, you'll still loan everyone your gear. New people need a hand. Everyone's awesome. Take care of each other. It's great to be around."
Earlier in the day, another cowboy had loaned Sara a bull-riding vest (used to keep you from breaking your ribs) when she found she'd left her vest at home.
Hot Rodeo's queen, Rosie Sierra, sees gay rodeo as a place for women like Sara to grow.
"We have a lot of strong women in our rodeo organization, and we encourage more women to do more."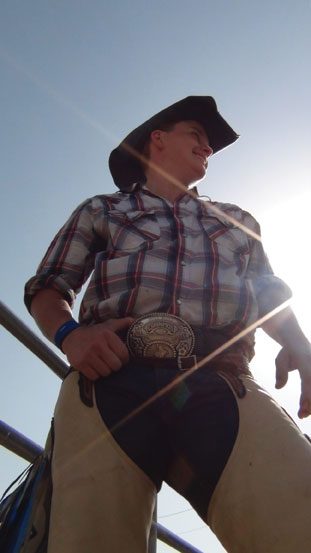 Whether you're new to gay rodeo or a longtime veteran, the organization offers a lot. After volunteering and participating for more than 20 years, Rosie is still finding new ways to be involved. Next year, she plans to compete in pole bending, a beautiful event where the horse and rider weave between poles in a timed competition. "It's a dance with you and the animal," she says, smiling. "It's a perfect dance."
In addition to the traditional horse and cattle events, IGRA has three camps (read campy) events: Goat Dressing (putting underwear on a goat), Steer Deco (tying a ribbon on the tail of a steer), and the crowd favourite, Wild Drag Race.
In Wild Drag, teams consist of three people and one wild steer. The team members have to get the steer from a chute to a line 70 feet away, where the person in drag has to mount the steer and ride it back to the chute. Two buckles are awarded: for the best time and best costume.
This was my partner's first rodeo, and she fell in love with this event.  I'm sure we'll be making a Wild Drag appearance soon.
Along with bull riders and pole benders, animals take centre stage at every gay rodeo event. After our chat, Sara brought us to meet the bulls and their handler, Jane Silva. Jane and her partner, Bill, breed bulls ridden on the IGRA circuit and the perhaps better-known PBR (Professional Bull Riders) circuit. We climbed into an open-air trailer, where two goats from the day's events were relaxing. We scratched their heads as Jane told us the story of the three-legged goat they'd saved—the goat that now lives with them as a pet. I asked Jane about the bulls.
"Actually, our bulls are born to buck. They're a special breed. Saying you can get any bull to buck would be like saying you can make any horse run in the Kentucky Derby.  Obviously, breeding is involved. And our animals, when you see them in the pasture when we run them in, they buck without anyone on them, any flank strap, because they love that athleticism, that action. That's their exercise."
We walked over to the pen where the bulls are kept, and Mud, a 2,500-pound black-and-white bull, met us at the fence. Sara introduced us.
"He's so strong. He just gives this power kick that blows your feet out into a handstand.  But you come along with some alfalfa, and he's like, 'What, food?' You can just scratch his tail like a dog. He has these two switches."
Jane told us that earlier, when Mud had run to the fence after bucking a rider, sending people scrambling, he was just looking for the cookies he knew were there. She pulled out a bag of sweet potato chips, and we stood there, feeding Mud from our hands. I asked Jane what it's like to be a woman at a gay rodeo.
"Gay rodeo to me is very rewarding because I love working with the animals. That's my forte. With normal rodeo, it's the last male bastion. Women are not accepted very readily behind the chutes. There are very few women that are allowed, at the PBR, to go and flank and load their bulls. There's only one that I know of. It's a tough world to be accepted in. Here, I'm the one in charge, and it's preferred that way… I get to flank; I get to run the animals, I get to do what I love to do—and with a wonderful group of people." (igra.com)