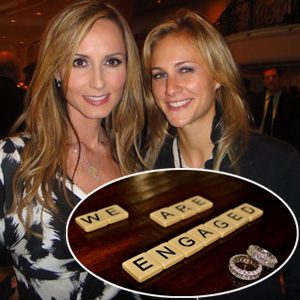 Only a year after coming out, it's wedding bells for Chely Wright and her activist girlfriend.
Chely just announced her engagement to girlfriend Laura Blitzer.
The two met through their youth advocacy work and have said that their passion for Scrabble holds them together.
Chely told People, "The freedom of being out and open about who I am allowed me to find and fall in love with Lauren, the most amazing woman I've ever known."
The two are to wed this August in Connecticut in front of about 200 people on an estate owned by Blitzer's aunt. Chely told E Online, "It's been a really exciting time.
We fit so well. And the best part is that our families go so beautifully together." Chely has said she wants a family so fingers crossed we'll be having baby news soon too! 
In the meantime, get your Chely fix with Wish Me Away, the documentary chronicling Chely's coming out. The film premieres at the Nashville film Festival this month.
Check out the teaser for the film
;