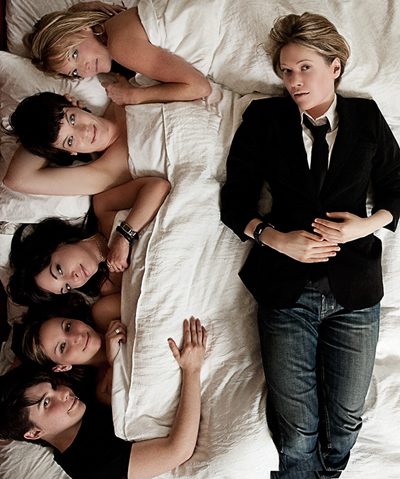 Check out this hot lesbian web series.
Are you a fan of The L Word? How about South of Nowhere? If so, get ready to meet your new favourite show: Girl/Girl Scene, an addictive new lesbian web series.
Girl/Girl Scene portrays the emotional reality of lesbians, minus the after school special vibe felt in South of Nowhere. It's not just a show about sex, drugs and drama — it has depth and realistic characters, which makes Girl/Girl Scene easy to connect with.
Similar to The L Word, Girl/Girl Scene is filled with sex, drama and intrigue, but it is not as glamorized. The lead actress, writer and creator of the show, Tucky Williams, plays Evan — an androgynous beauty with Shane's demeanour and the ability to toast a girl like an oven.
You could easily be watching your life in Girl/Girl Scene, minus the copious amounts of sex, drug use and out-of-the-norm shenanigans, but it is written and acted out so well that the crazy scenarios seem like everyday life.
Girl/Girl Scene is not only quality in its production and content, but all of the actresses are stunning on a superficial level. Covering a diverse range in type and age, chances are good that you'll have a hottie to fawn over. Covering baby dykes, twenty-something's, MILFs, femmes, soft butches and a transman, they'll be someone for you. Due to such a diverse cast, the storylines and LGBT issues are just as varied. Why hasn't Showtime or LOGO picked up this show yet? It's not too bold to say that Girl/Girl Scene could be the next L Word.
The characters, the actresses, the issues, the storylines, the sex — it's all hot. Watch episodes 1 – 6 of season one at girlgirlscene.com.