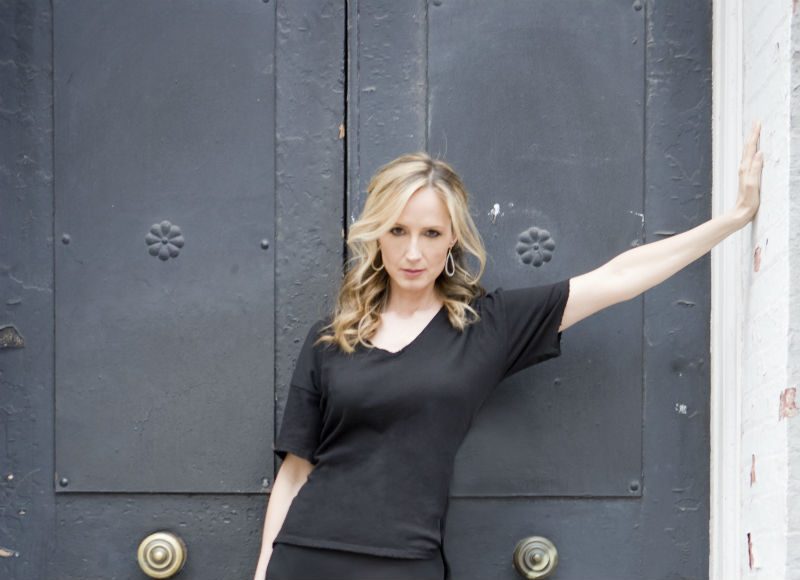 The 2010s have been a big dang deal in the life of Chely Wright.
She kicked off the decade by coming out in a very public way, with a vast media blitz supporting an autobiography (Like Me) and an album (Lifted Off the Ground); she also became a philanthropist, founding the LikeMe Organization, whose goals are to sustain and strengthen the LGBT community.
Over the next few years, she released the documentary Wish Me Away, got married, got pregnant, had twin boys, ran a Kickstarter campaign, and suffered the loss of her mother.
Pooling the emotional aftereffects of all those life changes (and with the funds earned through Kickstarter), Wright emerged in 2016 with I Am the Rain, the beautiful new album she made with producer Joe Henry.
With all the songs but one written (or co-written) by Wright, the record features guest appearances by Emmylou Harris, Rodney Crowell, and the Milk Carton Kids, testifying to Wright's transition out of the commercial country music she was once primarily known for and into the more rough-and-tumble realm of Americana.
That was a big reason why Wright wanted to work with Henry, and it became a large part of their vision for the project: "We set out not to make a record that was, 'Look! Here are 13 songs you can hear on the radio!' "
Instead, Wright offers up 13 songs that turn their gaze inward, looking at presence and compassion, faith and foundations. Even a simple scan of the song titles reveals the album's introspective intent—"Inside," "At the Heart of Me," "What About Your Heart," "Pain," and "See Me Home," among others.
Indeed, she's come a long way from "Single White Female."
In the middle of the set, Wright makes Bob Dylan's "Tomorrow Is a Long Time" her own, with an intimate perspective gained from love and loss. Because she sticks to Dylan's original pronouns, the tenderness in her voice expresses all it needs to as she sings, "Yes, and only if my true love was waitin'. Yes, and if I could hear her heart a-softly poundin'. Only if she were lyin' by me, then I'd lie in my bed once again."
Though she loves putting a gay spin on the cut, she's also content to sing songs straight, as it were.
"To interpret a song, you don't have to have lived through every perfect detail," she explains. "And I often say this: I'm pretty sure Johnny Cash never shot a man in Reno just to watch him die. My job is to tell a story in four and a half minutes, and I don't feel shackled to the idea that I need to make everything a female pronoun now. And, quite frankly, I still feel good about singing 'single white female looking for a man like you.' I'm a character in the song."
Having grown up in Kansas, Wright moved to Nashville in 1989, hoping to make it big.
Her debut album dropped five years later, and her first No. 1 single five years after that. It would be another 11 years before she would come out publicly.
Thanks to artists like Brandy Clark and Kacey Musgraves, commercial country music has begun to lean a little more to the left in recent years, but if she had it all to do over again, even in the current, more accepting climate, would Wright be out from the start?
"If I were a new artist who just got to town, I might be a little tentative to be the first. I might be a little tentative to try to get a real record deal, being out, because out of the 20 real hit makers that there are right now, none of them are out," she says. "So I would follow that lead, probably, and say, 'Now's not the time to come out.' Doesn't mean that I wouldn't have tried to get, maybe, a couple of hits under my belt and then come out right after I had a No. 1 record."
She continues, "I mean, I thought about it back then. I had fantasies about walking out on the ACM [Academy of Country Music] stage after I did a performance, gave an award, or got an award and said, 'Thanks for this.' I did. I thought about it. I wanted to have the courage to do it, but…as a new artist coming to town, openly gay and telling the world, I would be reticent to approach the labels and say, 'Hey, I'm gay. Will you give me a record deal?' Maybe it's a lack of courage on my part."
Courage is something Wright has come to find in herself. If you've seen Wish Me Away or are familiar with the fruits of her charitable work through LikeMe, you'll discover it too. She compares and contrasts her two main ways of making an impact—music and activism—she says, "It does feel good to have people say, 'You've been a soundtrack to my 20s.' Or, 'My mom listened to you, and now I listen to you, and you're a part of our lives.' That's a good feeling on a…I don't want to say 'shallow' level…but it makes you feel good about the work—the time, the effort, the idea that you sat down and wrote 50 songs, even if only two of them are good. That makes you feel good.
But, on a spiritual level, whether I've kept my commitment with God to try to put more into the world than I take out—someone being touched by my coming out story is definitely the best of the best."