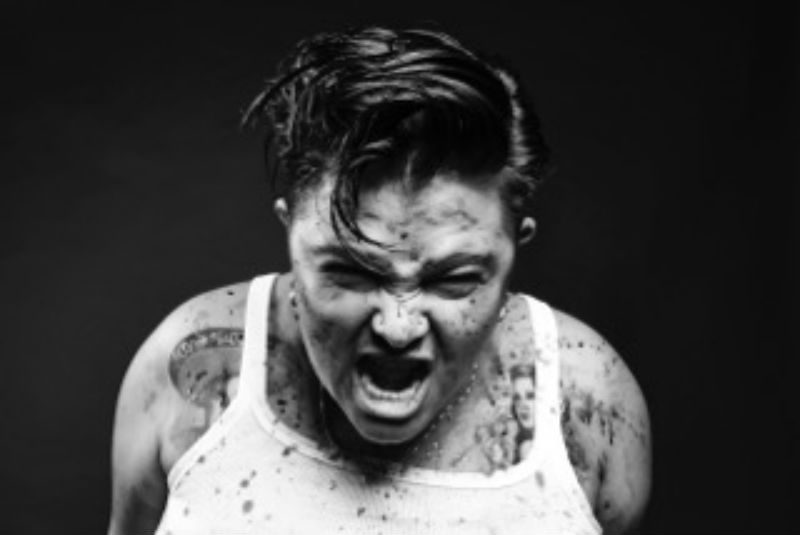 With an uptown funk style and groove, Mojo Juju is defying expectations.
Mojo Juju oozes jazz and soul cool with her album Seeing Red / Feeling Blue.
Once you hit play on the first track, "Your Love", you know this is a unique album.
Mojo has a way with lyrics where they simply melt in her mouth as she sings them.  Mix this in with a funk and pop beat, and the opening track is confusing in its mixed genre and pleasantly intriguing.
"A Heart Is Not A Yo-Yo" really plays with rhythmic beats and brass instrumentals to create a swing song with soul. This departure, in sound that Mojo recently explained to me, is a radical step from her previous outings.
Despite sitting down and trying to write the new songs for the album with a predetermined expectation of the sound, Mojo says she quickly realized that the sound of this album would be entirely different.  "I never saw myself as a Blues artist; it was an easy way to explain to people what I did", Mojo explains in her docile tones down the phone line.
However, once she sat down to write this album, she would no longer be able to maintain that easy explanation. Instead of drawing from artists that were hot on her playlist, Outkast, Gnarls Barkly and Frank Ocean, she said, "all [those] artists have throwbacks to older RnB soul sounds… but doing something contemporary, and I admire that".
It's like "create something new with a sense of nostalgia about it", Mojo declares.  In that, she broke free of all the expectations with this album and "placed no restrictions [on herself] … [instead] just write and not think too hard about what comes out".
This approach gives us the instant radio hit "If You Wanna Stay", which is distinctly pop in its sound. Remaining coy about the meaning of the lyrics, Mojo confirmed it was not drawn from "a romantic relationship".  She shared that the song was the result of going "down a pop tangent", born from listening to lots of Madonna at the time. This tangent leaves us with a solid track with an undeniable pop hook. Contrasting this pop interlude is the track "Sungarcoated". Here we are introduced to big brass instrumentals that take the lead and weave a musical journey heavy in funk and soul for the listener.
Working with Producer Petro Stylus (Hope Street Records), the two have collaborated to bring us an album that is different and fresh, pulling in the classic jazz sounds with a twist of funk and a hint of pop.  This is evident in the latest single, "They Come, and They Go". It's groovy with sharp hip hop vocals, electronic sounds and beats, again hinting at a genre cross-over while maintaining that underlying groovy funk soul to it.
If you haven't discovered Mojo Juju yet, then you are missing out, Seeing Red / Feeling Blue is released on April 17, so be sure to check it out.