It's a massive party in a big ol' dance hall with bands, booze and babes.
Get ready, Melbourne, there's a huge party coming, and it's going to get sweaty. Heel Burners 2014 is around the corner and there will be bands, booze and many babes.
The lineup is buzzing, bursting with talent and getting ready for a huge night. Kira Peru and Amy from She's The Band let LOTL know who and what's getting them excited.
"We are so stoked to be part of this," says Amy. "Damn good bands, damn good humans and some damn good times."
Amy promised the night to get messy, but the good kind of messy.
"We're definitely serious about the issues in our songs but we have the best time on stage together so it always translates to be a riotous party kind of vibe. The kind of fun you'd expect from a Hawaiian shirt in winter," says Amy.
Fuelled by their love of beer, good times and punk rock, She's The Band are excited to see bands they've heard about but never had the chance to see live like Mangle Wurtzle and La Bastard! "We are always keen to see our sisters from Adelaide, The Villenettes play; they're so damn excellent!" Amy says the band is excited to share the stage with headliner Mojo Juju and Kira Puru.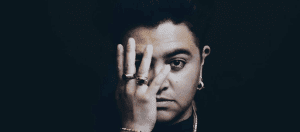 Echoing the same excitement as Amy, Kira Puru is obsessed with Cosi from Mangelwurzel, "She's obscenely musical and a major nutter. That combination is a delight to watch live, and I just have a boner for hot chicks wielding guitars," says Kira Puru.
Describing her live show as a "kind of a lousy and lazy punk approach, sad songs played badly whilst sweating," Kira Puru is set to deliver her unique sound and party with the other Heel Burners performers.
In a melting pot of inspiration, Kira Puru's sound emerges. "I'm interested in the desolate, dark, sickening feeling that prolonged loneliness delivers," says Kira Puru. "Pining for secret loves across vast oceans, unconvicted serial killers in small country towns, falling in love in all the wrong places, never sleeping in your own bed, walking across a desert to get to the other side, how smart you can be without ever reading anything, solitary confinement, déjà vu and messages in bottles," are just a few thoughts behind her music.
Heel Burners 2014:
When: Saturday, August 2nd 7 pm
Where: Bella Union, Level 1, Trades Hall, Corner Lygon and Victoria Streets, Carlton
Line up: MOJO JUJU, KIRA PURU, LA BASTARD, MANGELWURZEL, SHE'S THE BAND, THE VILLENETTES, THEM NIGHTS, DJ TANZER, DJ LADY BLADES and DJ LONG DONG!