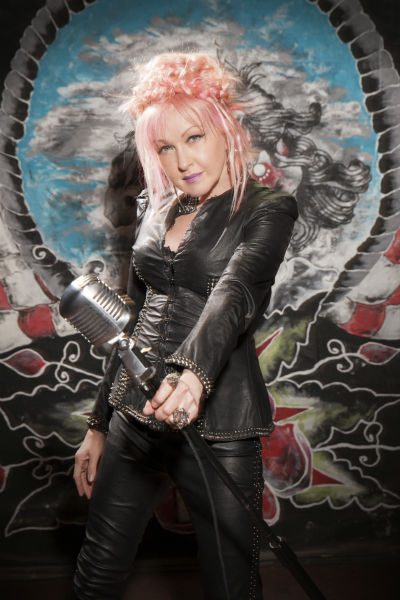 Cyndi Lauper has worn more than a few hats during her 30-year career: pop music megastar and '80s style icon; actress and comedian; theatre composer; and, of course, major ally to the LGBTQ community, to name just a few.
Even though her 1984 solo debut, She's So Unusual, seemed to make her an overnight success, the fact is that Lauper had been toiling in semi-obscurity for nearly a decade (notably, as frontwoman for the NYC New Wave combo Blue Angel).
Before its release, no one could have predicted the popularity of She's So Unusual. The whole package—Lauper's lovably zany image, the creative videos, and no less than five hit singles—took her from the trenches to the mainstream, overnight! The album's two biggest hits, of course, were the upbeat "Girls Just Wanna Have Fun" and the timelessly beautiful ballad "Time After Time."
But there were other hits (like a rocking cover of "Money Changes Everything," by Atlanta New Wave band The Brains), and even the deep cuts (remember Lauper's take on "When You Were Mine" by Prince?) were winners.
While she never again scaled those heights as a pop star, she has won three of the entertainment industry's Big Four: a Grammy (two, actually), an Emmy, and a Tony Award.
And the last few years have been especially good to Lauper, what with her True Colors treks, the success of her Broadway musical Kinky Boots (created with Harvey Fierstein), and her induction into the Songwriters' Hall of Fame. Her new album, Detour, was recorded in Nashville. It finds Lauper interpreting country standards and features cameos from Willie Nelson, Alison Krauss, Vince Gill, and Emmylou Harris.
Some may question the authenticity of a girl from Queens going country, but Lauper does herself proud on this disc, alternating between upbeat songs and ballads, and even speaking in her unmistakable New Yawk accent on a couple of tracks. Moreover, as she puts it, "Even though [these] are country, they're pop songs!
When I was little, they played all this on the radio. Patsy Cline and Loretta Lynn, they were radio stars, you know?" She has a point. On Detour, Lauper covers songs made famous by both Cline ("I Fall to Pieces," "Walking After Midnight") and Lynn (an adorable duet with Gill on "You're the Reason Our Kids Are Ugly").
The album opens, however, with a rendition of "Funnel of Love," a song originally made popular by a woman Lauper feels doesn't get enough credit—Wanda Jackson. "[She] was one of the first female rockers," says Lauper. "I was really excited to hear her when I was in Blue Angel. Because as you look up the history of your roots in music, you don't find a lot of women. But Wanda Jackson was right there, at the beginning of it. When Elvis was singing like that, [so was] Wanda…She's a great rocker and a great symbol for us all."
"I cut my teeth listening to Wanda and Patsy Cline," she continues. "Even Dolly Parton, when she first came out, OK? She was happenin' and [she still] is happening.' And the same [with] Loretta Lynn. To me, even though they were country, they had that rock and roll edge. When Loretta Lynn came out with 'The Pill,' it struck me that she really understood a woman's plight…I still love her."
It's well known that Lauper loves the gay community, too. Her sister Ellen is a lesbian, and in addition to the True Colors tour, Lauper created the Give a Damn campaign, which aims to educate the heterosexual community about LGBT equality. "My sister is part of the community," she tells me, "and I grew up watching my sister struggle—in dark times.
It's starting to get dark again now! But I think you gotta be who you gotta be, you know? And celebrate your life triumphantly."