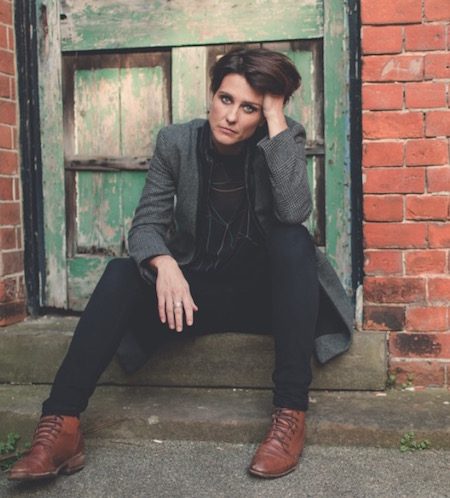 The Lip Service legend is popping over for the Australian LGBTI Awards, and a handful of intimate shows.
Heather Peace is up for the International Icon LGBTI Award this year, and with good reason.
She lit up our screens in the '90s in British classics like Emmerdale and London's Burning, before taking on the role of Detective Sergeant Sam Murray in the controversial BBC Three TV series Lip Service.
She then turned to a career in music, and with four albums under her belt, and recently, almost as many children, she is showing lesbians everywhere that a successful career and marriage with children is an attainable dream- you can have it all.
Heather also spends her time as an advocate for LGBTI+ causes. She is a patron of Manchester Pride and has recorded a video for Stonewall's "It Gets Better" campaign.
She is involved in a number of related charities, including Diversity Role Model and The Albert Kennedy Trust.
Heather is heading to Australia for the LGBTI Awards and has put together a series of intimate solo shows for us while she's here.
We sat down with her to chat about the awards and her music.
First of all, congratulations on the Australian LGBTI Awards nomination! You've stacked up a handful of awards in the UK, but is it especially exciting when you're nominated for an international award?
Thanks very much! And congratulations on your recent marriage equality going through in Australia. I have to say I was a little surprised that a bill for equality should be decided by a referendum, though.
Thank goodness the Australian people came through, eh?! I'm totally thrilled for you. I'm always pretty astounded when I get nominated for anything to be honest. I'm just going about my life as we all are. I'm particularly surprised at this award nomination as I haven't been to Australia for a few years.
We've been a bit busy extending our family from 3 (me, Ellie & Bungle the dog) to the 6 of us that there are now (2-year-old Annie and baby twins, Jessie & Lola). I was pregnant or with newborns for the whole of last year so it's very lovely that perhaps I was still in people's minds. Really, if it was down to how much work I did last year I shouldn't be up for this award at all. I can only think that perhaps my family life with Ellie gives younger LGBT people hope that it really is possible to have it all, regardless of who we are. I'm married with kids. I would never have thought that would be possible when I came out at the age of 19.
Neither did I particularly want that back then! How things change. A marriage made me feel entirely different from the very day it happened. It really did.
I think we can forgive you for taking some time out to have twins! Now that you're back on the tour scene, what can Aussie audiences expect in these upcoming shows?
I think I've moved on as a musician in terms of my confidence since the last time I visited. There's something about having the kids that have meant that all the gigs I've done since then have felt a lot less stressful. I used to suffer from a little bit of stage fright. I'd struggle to sleep the night before a show and I'd be super nervous.
I used to think that if I wasn't nervous then I'd lose a little bit of the edge that you need for performing but I've recently realised that that's not the case. I enjoy the gigs more now because I'm not as nervous. It means I'm super comfortable interacting with the audience. My gigs are always a lovely crowd. I'll also be playing solo which makes for an intimate show as it's just me with my audience.
Any banter will be between me and them. The shows are much smaller this time as it was a last-minute decision to do them after being asked to attend the LGBTI Awards. This means I'll hopefully be able to come out and meet everyone after the show. I'd like to do that. It's great being able to say thanks for the support.
Your fans have definitely stuck with you over the years! How do you feel your music has evolved in recent years, since Thin Line?
It's changed with the development of my skills. I wrote solely on piano or guitar for The Thin Line. I now have a much better skill set, working on the production side of things. I can write on piano and guitar but then record what I have onto my MacBook to add layers of sounds to it to work on how I want the overall track to sound.
I'm not a producer by any stretch but I have a lot of the production ideas now. It means when I go into a studio half the work has already been done and just needs replicating in a better studio with top class mics and production expertise from my producer, James Lewis.
That's what we did with my EP "Come Home". It's a cheaper way to do it too which means I can keep making records. Not many people buy records anymore they are with Apple Music or Spotify or they just stream it. As a smaller artist it means we have to be clever in how we produce our music.
Does that mean we can expect a new album sometime soon?
I'm definitely going to release something by this time next year. Hopefully by the end of the year but it's hugely time-consuming and emotionally consuming more to the point and right now my babies need all of that emotional time.
My bonding with them and helping Annie with the massive changes she's experienced in the last 7 months is the most important focus right now. It's getting easier every week, as they grow, to shift some of my focus back to my creativity in work.
I love the writing and recording process and I need it in my life. I'm excited to really get stuck back into it when the time is right.
Just to digress away from music for a moment- the television landscape in 2017/18 is far more queer-friendly than it has been in the past. Arguably, Lip Service wouldn't get as much pushback as it did when it was airing. Would you be up for a revival?
I absolutely would. It's something I've recently been thinking a lot about. There's an argument that it's much better to just have LGBT characters in mainstream drama or soap and that's enough.
But I think it's true that a lot of LGBT people have shed loads of LGBT friends. So I think there's definitely room for a drama about our lives in that way. How we interact with each other rather than just having your token LGBT couple in a soap. But I'd also like to see an LGBT family in a soap over here in the UK.
A family like mine and Ellie's. A long term LGBT family where they're regular characters but their storylines aren't about being LGBT.
But yeah, "Lip Service" eight years later would be great. I'd be intrigued to see where the writer Harriet Braun thinks all the characters would be. I should call her and see if we can put a plan in motion…