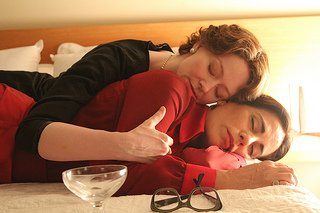 The Mardi Gras Film Festival screens Alan Cumming's poignant drama ANY DAY NOW.
Set in 1970s Los Angeles and inspired by a true story, ANY DAY NOW follows the story of aspiring singer Rudy (Alan Cumming) and his closeted district attorney partner Paul (Garret Dillahunt), who take in an abandoned teenager with Down Syndrome, becoming the family he's never had. But once authorities discover the unconventional living arrangement, the men must fight the legal system to adopt the child.
On the night, the new Festival Director, Paul Struthers, will reveal the extensive program of films in the 2014 festival ahead of the screening.
"Over the last 12 months, there has been a huge amount of incredible queer cinema from around the globe. Stories of love, loss, politics and pride will become all centre in February. I'm excited to be a part of bringing these films to Australian audiences," says Mardi Gras Film Festival Director Paul Struthers.
Running from Thursday, February 13 to Sunday, February 23 2014, at Event Cinemas George Street and presented by Queer Screen, the Festival will offer up an eclectic selection of classic and contemporary LGBTIQ films from across Australia and around the world – showcasing multiple worlds and Australian premieres, critically-acclaimed international titles and some of the most groundbreaking queer flicks of all time.
A selection of 10 films has already been announced and are on sale, including the hilarious gay teen comedy G.B.F, award-winning documentary CAMP BEAVERTON: MEET THE BEAVERS and the critically-acclaimed feature CONCUSSION.
The Festival will kick off on opening night with the Australian REACHING FOR THE MOON premiere, starring Miranda Otto in what Struthers calls "a career-best performance".