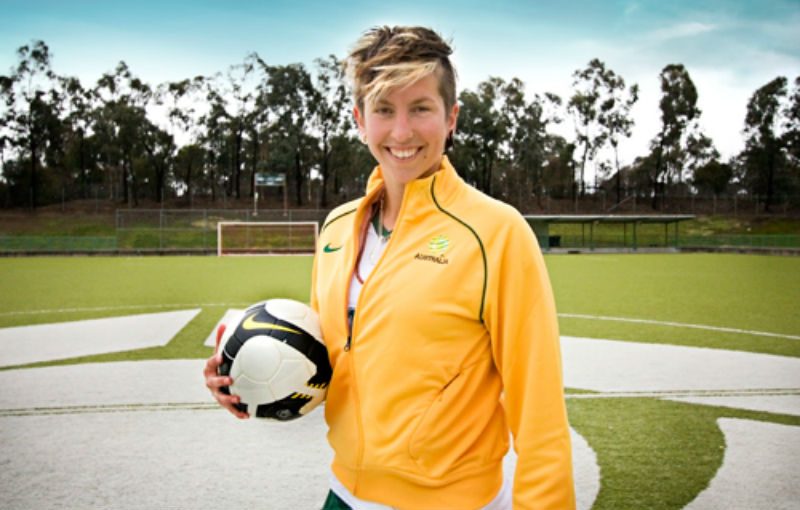 The Mardi Gras film screening of 'Out To Win' will include a panel discussion about being an elite gay athlete.
The 23rd Mardi Gras Film Festival starts in just one week, and Queer Screen is thrilled to announce that Australian sporting stars Ian Thorpe, Matthew Mitcham, Sally Shipard, Daniel Kowalski, Shelly Gorman-Sandie and Casey Conway will form a panel discussion about being elite gay athletes as part of the screening of Out To Win.
Co-presented with ACON and Pride in Diversity, this is one event from the Mardi Gras season you won't want to miss.
The high profile panel of Australian athletes will discuss the impact their sexuality has had on their careers and personal lives and will follow the screening of Malcolm Ingram's excellent documentary Out To Win, which examines the lives of aspiring and professional gay and lesbian athletes, featuring interviews with Billie Jean King, Jason Collins, John Amaechi, Martina Navratilova, Michael Sam and many more.
As part of ACON and Pride in Diversity's newly launched Pride in Sport program – which includes the world-first LGBTI Pride in Sport Index – the Out To Win panel's inclusion in the upcoming festival is an important step in addressing homophobia and the exclusion of LGBTI people in sport.
Tickets are on sale here. Book quickly so you don't miss out!
Scroll down to have a look at the four important films in the Focus on Sports category, and check out the rest of the festival through the official website.
 Game Face 
When: Mon 22 Feb 6:30 pm
A game-changing documentary that explores the lives of various LGBTIQ athletes. From transgender MMA fighter Fallon Fox to basketballer Terrence Clemens coming out as gay in college, this has something for everyone.
Back on Board: Greg Louganis
When: Tue 1 Mar 6:15 pm
Greg Louganis is arguably the most recognisable gay athlete of all time. This documentary chronicles his life from a troubled childhood to a stellar career in diving and beyond. It was the winner of the Audience Award at Outfest.
Out To Win
When: Sun 28 Feb 7:30 pm
A comprehensive history of what it means to be an 'out' athlete – from Billie Jean King's scandalous outing to Michael Sam's choreographed coming out before the NFL draft.
Scrum
When: Tue 23 Feb 6:30 pm
Don't miss the encore screening of award-winning filmmaker Poppy Stockell's Bingham Cup documentary. Join the Sydney Convicts as they prepare to host the 2014 Gay Rugby World Cup.