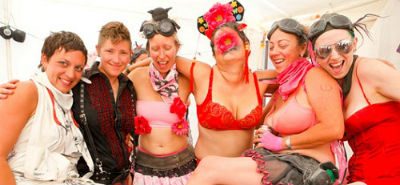 The only all-women's, trans-inclusive, sex-positive camp at Burning Man is to make its Australian premiere at the Mardi Gras Film Festival
A documentary film about Camp Beaverton, an experimental community camp for self-described "Wayward Girls" at Burning Man 2012.
Burning Man is a unique experiential art festival that lasts 8 days in the Black Rock Desert in northern Nevada.  
It creates a temporary city that is home to almost 60,000 people who live within the 10 principles that makes Burning Man's collective philosophy. Camp Beaverton is the only women-only, trans-inclusive, sex-positive camp at Burning Man.
They teach workshops on safe sex, sexual techniques and good communication skills. They also host various events and play parties such as the infamous strap-on-athon, possibly the largest women-only, trans-inclusive sex play party on the planet.
They are a family on and off the playa, and offer a safe space for women to explore their desires, boundaries and realize their fantasies. We invite you all to Meet the Beavers.