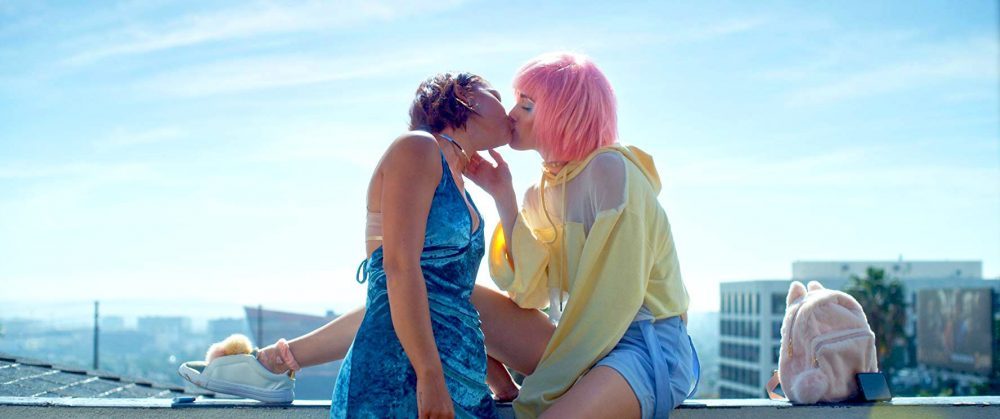 The 2019 Melbourne Queer Film Festival unveils a stupendous line-up  across three unique venues
Showcasing 142 features, documentaries and shorts from Australia and around the world, the Festival will present the most thrilling, diverse, and engaging contemporary LGBTIQ+ cinema. Many of this year's titles have received significant kudos at the international film festival.
The nation's largest and longest-running mecca of queer cinema will celebrate the commencement of its 29th season with a suitably fabulous Gala at Village Cinemas Jam Factory – the event's dynamic new screening partner – along with longstanding key venue, the Australian Centre for the Moving Image (ACMI) and the city's cherished Cinema Nova (Carlton) will co-host the Festival.  And in keeping with tradition, ACMI will present the Festival's renowned Centrepiece Gala and Closing Night festivities.
With increased venue options MQFF will unequivocally be better placed than ever before to engage and grow with its ever-expanding audience.
Increasingly, the scope and reach of queer cinema are attaining new heights, with a universality of themes and stories that connect with audiences from all walks of life, as evidenced by the films which will screen at the event's 29th edition.
Check out these Films:
Rafiki
From Kenya comes the courageous coming-out drama, Rafiki, directed by Wanuri Kahiu and inspired by Ugandan Monica Arac de Nveko's 2007 Caine Prize-winning short story Jambula Tree, about the friendship and tender love that develops between two young Nairobi women who, as a consequence, face the wrath of their conservative community. Initially banned from screening in Kenya, Rafiki was the first Kenyan film to be part of the official selection at Cannes. It had its international premiere within the Un Certain Regard section at the 2018 Cannes Film Festival.
Daddy Issues
Daddy Issues weaves a tale of love, romance and betrayal as it follows Maya, a young artist who finds solace in social media, on the verge of first love, which is more complex than anything she could have imagined.  Winner of multiple festival awards, including the Audience Award for Outstanding First Narrative Feature at LA Outfest, Daddy Issues is an exceptional debut feature from actress turned director Amara Cash.
When the Beat Drops
Winner of the Jury Prize for Best Documentary Frameline at San Francisco International LGBTIQ+ Film Festival, When the Beat Drops takes us into the wild and subversive underground dance scene of 'bucking,' an energetic yet sensual form of expression that was born out of gay clubs in the deep south.  Directed by renowned choreographer Jamal Sims, this multi-award-winning doco, which engages with unforgettable characters, is further enhanced by an engrossing narrative.
A Kid Like Jake
With an all-star cast including Claire Danes, Jim Parsons, Octavia Spencer and Priyanka Chopra, A Kid Like Jake is a compelling drama about a young Brooklyn couple realising that their 4-year-old child might be trans.  Director Silas Howard has crafted a moving story that tackles the topic of gender dysphoria with grace and sensitivity.
Mario
Two young footballers find themselves entangled in the game's politics and the intricacies of love in Mario, a powerful story from Switzerland set in the competitive world of professional soccer, which simultaneously serves as a tender romantic drama and a critical exploration of masculinity within football.  Directed by Marcel Gisler and winner of Best International Feature and Best Foreign Feature at FilmOut San Diego and Outflix Film Festival, respectively, Mario is an evocative exploration of love, set within an environment unwilling to embrace it.
Tucked
Winner of the Grand Jury Prize for Outstanding Narrative Feature at LA Outfest, Tucked is a 'slice of life' UK drama which follows the unlikely friendship between an 80-year-old drag queen and a rising young queen, both of whom are struggling with issues of gender, identity and mortality.  Directed by Jamie Patterson and starring veteran UK character actor Derren Nesbit, Tucked has been honoured with a slew of international festival awards and looks set to be one of the many highlights of this year's MQFF.
Another high point of MQFF 2019 is the Festival's 'Keep the Vibe Alive' short film competition, an incredible opportunity to demonstrate how smoking can often 'kill the vibe' in LGBTIQ+ communities, which has been created by Quit Victoria in partnership with MQFF, Thorne Harbour Health and Minus 18.
Screenwriter Benjamin Law and a panel of judges from Quit Victoria have selected four competition finalists from over 40 pitches. In turn, each finalist received a $4,000 grant apiece to create their films.