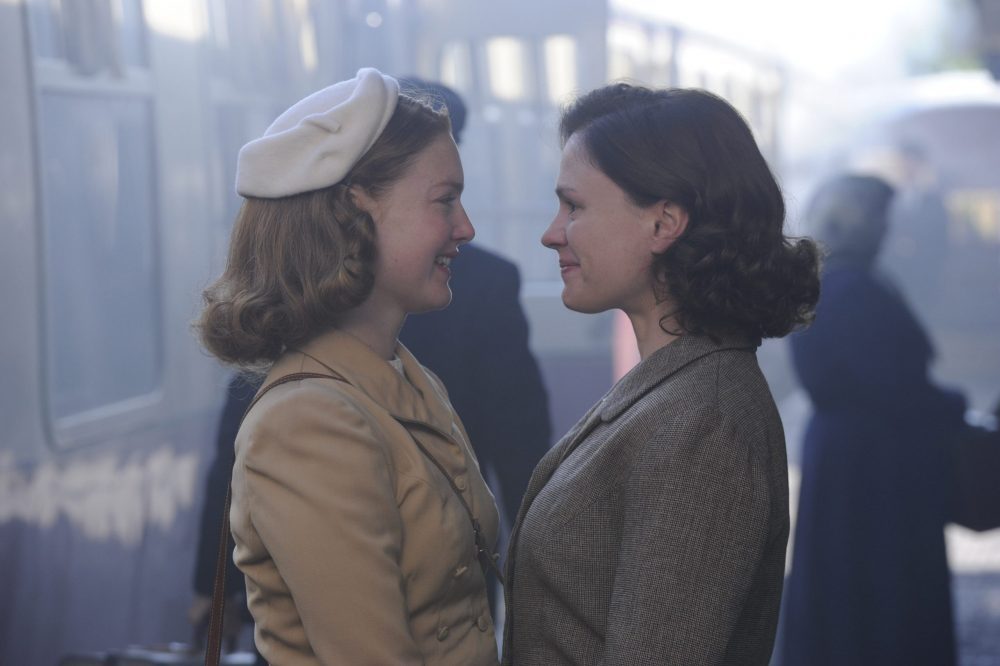 Queer Screen's 27th Mardi Gras Film Festival brings the best LGBTQI+ cinema from around the world to Sydney from 13 to 27 February before touring to Parramatta, Lismore, Newcastle and the Blue Mountains in March.
The 2020 theme is 'Evolve, Emerge, Fly' – representing the evolution of queer cinema.
This year's Festival boasts six world premieres, 93 Australian premieres and 12 Sydney premieres across 57 feature-length films, two episodes and 75 short films, told through 15 different genres.
Lisa Rose, Festival Director, gave us her top 5 must-see films for lesbians this year.
1. Bit
A lesbian vampire film we can all get behind! Bit stars Nicole Maines (Supergirl) as Laurel, a young, trans university graduate who moves to Los Angeles to crash on her brother's couch. Sampling the nightlife, Laurel falls in with a group of lesbian vampires. Fans of Buffy the Vampire Slayer, D.E.B.S and the 90s will revel in this queer, feminist comedy/horror flick about what it means to belong in today's challenging times.
Friday, 14 February at 9 pm, Event Cinemas, George St and Tuesday 18 February at 6.30 pm, Dendy Cinemas, Newtown
2. Tell it to the Bees
In post-WWII rural England, single mother Lydia (Holliday Grainger) falls in love with the town's female doctor, Jean (Anna Paquin), who has returned home after a long absence, to find rumours of her 'improper conduct' persist. The two embark on a passionate affair that triggers a series of events that neither can stop. An intoxicating mix of romance and magical realism, Tell it to the Bees will have audiences swooning at the chemistry between the two leads.
Friday, 21 February at 6.30 pm, Hayden Orpheum, Cremorne and Saturday, 22 February at 6 pm Event Cinemas, George St

3. Queering the Script
Get on board this incredibly nostalgic ride through the last twenty years of queer female fandoms. A love letter to LGBTIQ+ fans, this documentary revisits the moments that have galvanised us through the fanfic-filled, cosplaying glory of shows like Xena to The 100. We hear from Xena: Warrior Princess, Lucy Lawless; The L Word creator Ilene Chaiken; writers behind shows like Riverdale and The 100; pop-culture experts and figureheads from Autostraddle and GLAAD Media, as well as devoted female fans.
Saturday, 15 February, 1.30 pm at Dendy Cinemas, Newtown, followed by a panel discussion featuring Danielle Jablonski, Co-Owner and Executive Director of ClexaCon, with other special guests
4. T11 Incomplete
Kate, a home care nurse (and recovering alcoholic), is striving to rebuild her broken life, only to have it fall apart again when she falls in love with Laura, her young paraplegic patient, who then betrays her trust. This is the beautiful and thoughtful new film from award-winning lesbian filmmaker Suzanne Gucci. Herself an amputee (she is a former New York state trooper), and many of Guacci's cast and crew on T11 Incomplete identify as disabled and LGBTQI.
Thursday, 20 February, 6.30 pm at Event Cinemas, George St.  Read LOTL's interview with Suzanne.
5. The Glass Room
Everlasting love endures in this stunning, epic romance, inspired by Simon Mawer's Booker Prize-shortlisted novel. Liesel and Hana share an intense friendship that frequently verges on more. Liesel marries Viktor but confesses her love for Hana as she is about to flee the Nazi invasion of Czechoslovakia. The two women try to maintain contact as Liesel suffocates in a loveless marriage and Hana struggles for survival with her Jewish husband and newborn child. It will be 30 years before the two reunite – just as army tanks come thundering in again.
Wednesday, 26 February, 7 pm at Event Cinemas, George St
Special mention goes to Ellie & Abbie (and Abbie's Dead Aunt), the first Australian film to open the Festival in its 27-year history. This heartfelt, exact sex rom-com about two high school students is fun for all ages. It didn't make the top 5 because opening night has sold out. However, another screening was announced!
See it on Sunday 23 February at 6,30pm, Event Cinemas George St.