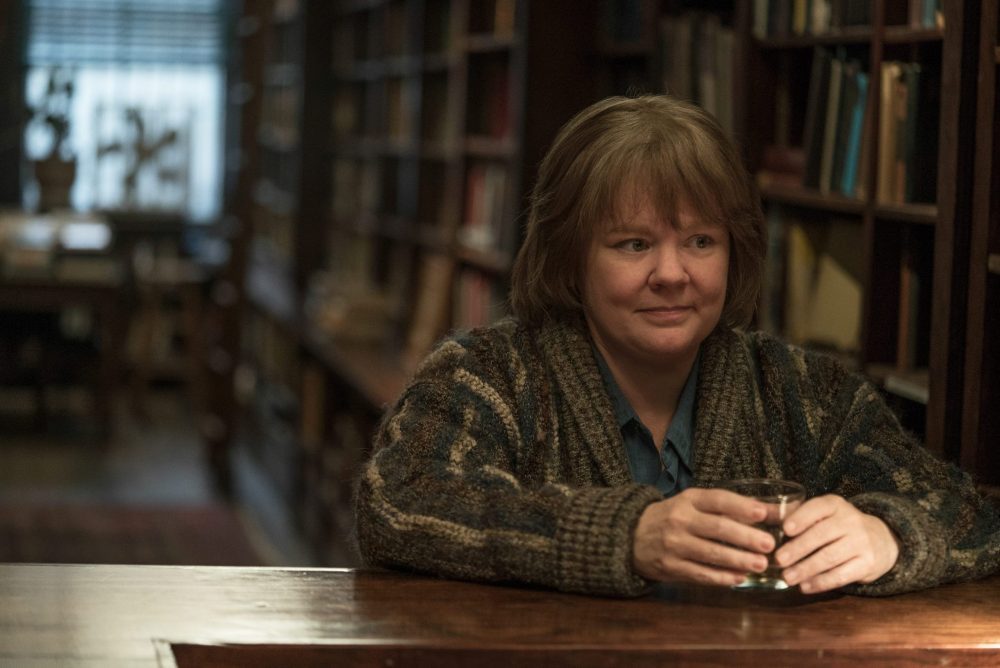 In a dramatic turn, Melissa McCarthy portrays a broke, brilliant lesbian writer turned forger.
We know Melissa McCarthy mostly as a versatile, energetic comic genius, embodying unlikely women and even skewering some men—Sean Spicer, we're looking at you— with her razor-sharp characterizations. McCarthy attracted an Oscar nomination for her unglamorous role in Bridesmaids. And her latest role as a whiskey-guzzling, abrasive lesbian author in Can You Ever Forgive Me? may well earn her another nod from the Academy.
It's 1991 in New York City and Lee Israel (McCarthy) is a washed up biographer who has painted herself into a corner of obscurity. She's gay, she's mean, she's lonely, and the only friend she has in the world is her cat. Even Israel's own literary agent (Jane Curtain) detests her but nevertheless dispenses some sage advice at an elite Manhattan party: be nicer to people; write in your own voice—advice Israel dismisses to her own peril. In a nice moment of foreshadowing, when Israel leaves the party she steals out of spite, taking toilet paper and another guest's winter coat with her.
She's months behind in her rent, and when her beloved cat becomes ill and she cannot afford the vet bill, Israel is forced to make a fatal step down the rabbit hole of crime. The crime in question is forgery: namely, penning letters in the voices of Hollywood and Broadway celebrities and selling them to New York antiquarians.
Astoundingly, Israel gets away with this caper (it's pre-internet) and relishes channeling the likes of Fanny Brice, Noel Coward, Dorothy Parker, et al. Israel's fortunes finally seem to be looking up until she becomes involved with a homeless queer cad, Jack (Richard E. Grant)—who becomes her drinking buddy and accomplice.
Can You Ever Forgive Me? is based on the 2008 memoir by Israel (it's a true story!) and McCarthy is brilliant as the dowdy dyke/crazy cat lady with a criminal gift for mimicking wit; it's shockingly refreshing to have such a marginal character embody a struggling woman's perspective.
We are told that Israel had achieved some success writing the biographies of brilliant 20th century women—Tallulah Bankhead, Dorothy Kilgallen, Estée Lauder, with work begun on a biography of Fanny Brice, but the books didn't sell and Israel—frumpy, 50, and financially desperate—is faced with no future at all.
In a moving subplot, we learn about Israel's struggle to achieve intimacy with women and, touchingly, the person to whom Israel sells some of the forged letters is an affable antique bookseller (Dolly Wells) who starts to fall for Israel—and you want to slap Israel for sabotaging the date they have.
Can You Ever Forgive Me? is a coming out tale—not so much about sexuality as about authenticity: be yourself and tell the truth about yourself; don't expect to live through or off other people. For someone with intimacy issues that's easier said than done. The irony is, of course, that to find out who she really is Israel must lose her way completely, penning in excess of 400 fake missives impersonating other people, before she understands what she's made of.
This film is a bittersweet delight and McCarthy shines in a role that should be thoroughly unappealing but isn't. In fact, she delivers a kind of queer, feminist anti-hero that I have not seen before. Israel doesn't care what anyone thinks of her and she's not sorry for what she does. It's necessary. Her actions are essential for her survival.
Keep your eyes peeled for the cameo from theater legend Anna Deavere Smith who plays Israel's former lesbian lover. And wait until the very end of the movie and the credits to see how all this turned out. Kudos to all of the female talent behind Can You Ever Forgive Me? Directed by 38-year-old Marielle Heller (who does a miraculous job of recreating a wintry 1990s New York) it is also co-written by Nicole Holofcener with her trademark, painstaking insight, and co-produced by Amy Nauiokas and Anne Carey.
Plus, it's a real pleasure to watch a film where iPhones, sex, and young, beautiful people are completely absent—and a middle-aged lesbian character sitting at an antique typewriter is the subject of a bravura performance.