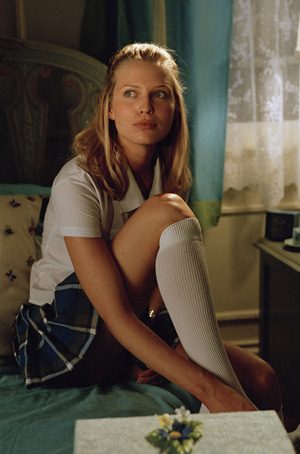 D.E.B.S, Angela Robinson's 2004 cult classic spy spoof meets teen flick with a distinctly lesbian bent.
According to the plotline, embedded in the Standard Aptitude Test for American high school students is a hidden test that cherry-picks pupils who can lie, fight, and steal for an elite secret defence program called the D.E.B.S.
Amy is the 'perfect score' and the Academy's great hope for finally defeating gorgeous and sexy arch-villain Lucy Diamond ('so evil, no agent has survived a meeting with her and a dead ringer for Demi Moore!).
Right off the bat itís clear that Lucy intrigues Amy more than she cares to admit, and when they finally meet, the chemistry is more than they can handle.
Will Amy give up her alpha, beta, gamma existence, and trade it all in for romance with the alluring Diamond?
In D.E.B.S., Robinson has created a genuinely funny all-girl-action romp, with an easy-on-the-eye cast and a cracking retro soundtrack. For all the girls who longed for Charlie's Angels with a bit of girl on girl action, your dreams have been answered!