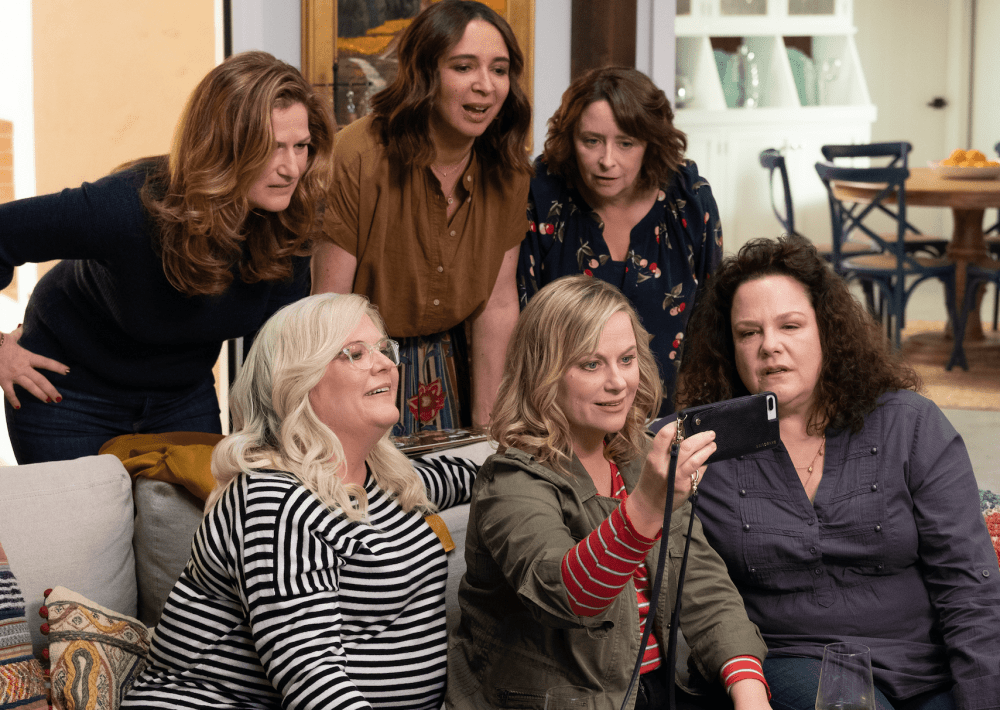 Amy Poehler makes her directorial debut with a quaffable, female-driven comedy set in Napa Valley.
Rebecca (Rachel Dratch) is turning 50 and her female friends (alumni of a pizza joint college job in Chicago) plan a getaway in celebration of this fearsome milestone. But the regimented itinerary has been devised by well-meaning control freak Abby (Amy Poehler) who has planned the Napa getaway for reasons of her own.
As the wine-soaked weekend unfolds, we find out the various causes, aside from camaraderie, that drives the women to uncork bottle after bottle as they share gossip, air their grievances, and tensions surface that tests their friendship.
Abby finds that attempting to rally her pals is like herding cats and she struggles to balance wine tasting with menopausal meltdowns. Some of the obstacles they face include career, health, romance, and relevance—all of which are becoming more acute as women age.
And how well do the women really know and love each other? Are their distant days as pie-slinging waitresses really enough to keep them together?
Set against the glowing backdrop of Napa Valley's wine country the women soon find out. Workaholic Catherine (Ana Gasteyer), single lesbian Val (Paula Pell), home-maker Jenny (Emily Spivey), and Naomi (Maya Rudolph), who fearfully awaits blood test results, go along with the celebration but are fishes out of water in all that sunshine and alcohol.
Especially when tarot card reader from hell Cherry Jones predicts dire futures for them all. Will the pinot noir save them, or will it all turn out to be pinot-gregious?
Treats for lesbians include a moving subplot involving hopeful, single Val who pursues a gorgeous millennial Napa waitress/artist (Maya Erskine) whose motives are unclear. And there's a delightful turn from Tina Fey who plays Tammy, the slightly sinister, butch-straight lady Airbnb hostess who pops up at the strangest moments, with the most enigmatic instructions on how the rental house should run.
Wine Country, written by Emily Spivey and Liz Cackowski, and directed by Poehler, is a lot of fun. Rarely do we see women of this age guzzle so much screen time and wine. And if you've ever felt intimidated by the culture of wine tasting you'll feel vindicated by the fun taken in shooting down sommelier seriousness as the women imbibe copious amounts of vino oblivious to anything beyond its color or whether it's getting them drunk or not. This movie goes down easy, like your midweek bottle of sauvignon blanc, but it's not high art.
It seems odd that in a film that partly deals with coming to terms with aging several of the female cast's faces have been digitized to benignly blur signs of age. I breathed a sigh of relief when Cherry Jones appeared, makeup-free, and I was happily confronted with an ordinary (and gorgeous) lesbian face.