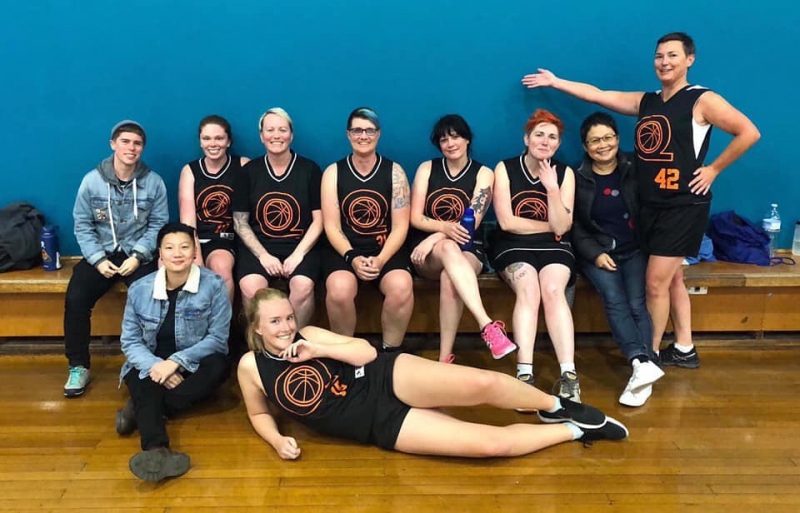 The club has two major focuses: community outreach and the support/protection of player base.
Bushrangers Basketball began in 2015 as one of Northern suburb's team: 'The Bushrangers'. They are Melbourne's first LGBTQI basketball club.
They began their journey as a group of players from the LGBTQI community who grew up feeling like they couldn't truly be themselves in a basketball team.
The court was their closet.
The team was proudly founded in Melbourne but has now expanded with partner Bushrangers Basketball clubs in Brisbane and Auckland.
They buck the trend of how sporting clubs are typically run. The board is currently comprised of women and non-binary folk who share a passion for basketball and the rainbow community. This is why they are called the Bushrangers; they have taken something typically 'male' and made it their own. Some people like to think this name is a cheeky euphemism and they don't hate that either.
Although they think it is interesting that no one asks the Victoria Cricket team why they are called the Bushrangers!
Bushrangers Basketball has two major club focuses: community outreach and the support/protection of its player base.
The community outreach involves identifying and encouraging rainbow people who are currently disengaged from sporting activities (and potentially the wider community) as a result of not feeling safe to participate in team sports as result of their sexuality and/or gender identity.
They achieve this primarily through their outreach program 'Come Out & Play'.
It is well documented that sportspeople who identify as LGBTQI are at higher risks of bullying, harassment and discrimination. In establishing 'Come Out & Play' they were driven by a sense of wanting to be visible to other players who may have felt excluded or marginalised because of their sexuality or gender identity.
"You cannot be what you cannot see".
"Growing up as a young basketballer it was depressing to see my heroes on the court sharing closet space with me. One of our first moves as a club was signing one of my former heroes, Olympian and former Opal, Sally Gorman. Sally Gorman is now pumped to be a Bushrangers Amb-kickass-ador" a member of  'the Bushrangers' said.
'Come Out & Play' does not involve a commitment to join a team and is free. The focus is purely improving the mental and physical health of the LGBTIQ+ community. The feedback from those who participate is overwhelmingly positive and fuels them to work even harder to find that player who is too afraid to 'Come Out & Play'.
The benefit of this program is that it is a "little different" from other LGBTIQ+ sporting clubs.
This work is necessary as they are largely focused on engaging gender diverse players. There are currently great steps being made towards increasing visibility and acceptance of the LGBTIQ+ community through awesome initiatives such as Pride Cup and Proud2Play. Bushrangers Basketball provides an ongoing and weekly outlet for inclusion and visibility at a social sporting level to support Pride tournaments or annual inclusion/diversity initiatives.
The engagement with LGBTIQ+ sporting clubs is overwhelmingly more popular and largely administered with/by/for cis gendered gay men. Whilst they are inclusive and welcoming of this demographic, they are primarily focused on outreach to those in the community who fall outside of this scope.
Based on their quick growth and given the identified imbalance in gender participation rates in other LGBTIQ+ clubs nationally, 'The Bushrangers' strongly believe their club's rapid expansion will increase participation among gender diverse players. Moreover, providing a practical application for Basketball Victoria's (BV) inclusion policies at a grassroots level.
They are necessary as they model inclusion governance for other clubs. They recently released their club's Gender and Sexual Diversity Guidelines and Code of Conduct documents.  They are doing this for the protection of their players and importantly for the new associations they seek to play in through 'Come out and Play'. These guidelines were heavily informed by Proud2Play's work with Cricket Victoria, Dr Erin Stapleton (a leading academic in Gender & Sexuality studies at the University of Melbourne) and Olivia Donaghy Psychologist & Coordinator of QLD Children's Gender Service (and Bushrangers Basketball QLD President) in order to help shape the governance of the club.
'Come Out & Play' has established new Bushrangers teams in basketball associations at Coburg, MSAC and in the future, Carlton Baths.
Bushrangers Basketball works tirelessly consulting with community groups, other sporting clubs and community experts to gain a greater appreciation and understanding for how to best support our players.
The club also met with and developed a solid working relationship with Sheena Atkins (Basketball Victoria's Diversity and Inclusion Lead). Over the course of these interactions a better understanding of BV's member protection policies was achieved.
The club understands how the intersectionality of financial hardship and being a member of the LGBTIQ+ community can impede access to sport. As a result, they have sought to identify at risk players (unemployed, students, those suffering from mental health issues) who may not be able to afford the weekly costs of playing. These players have received game fees, assistance with payment plans and ongoing support to address this issue. Through the support of our Globe and Vic Health grants they have been able to fund a weekly training at Carlton Baths. It is imperative to them that players are not burdened with extra costs that may prevent them from playing.
The club's expansion plan 12 months ago was to add one extra team. They have smashed this target, having grown to six teams, including one interstate club in Brisbane, one team in Auckland and two more future Melbourne teams.
They have been successful in linking players to safe spaces in the community by taking a holistic approach to player support; on and off the court. They do not look to profit from players by charging yearly or weekly training fees. They have worked hard to engage LGBTQI sponsors that will benefit the overall well-being of players and members.
For example, as a Bushranger player you receive the following:
– 10% discount at The Fox Hotel Collingwood (Our major sponsor and club pub)
– Monthly training at Pony Club Gym and weekly training at AWF
– 10% discount on Oesteo services with Dr Dilleo at the Neighbourhood Clinic in Brunswick
– Player discount to access gym services with Carlton Baths
– Concession haircuts for all players at Captain Darling
And they are constantly engaging with new LGBTIQ+ friendly businesses who are keen to get on board to help encourage the community to 'Come Out & Play'.
Through community grants 'The Bushrangers' have launched an online campaign for 'Come Out & Play'. They have reached over 10 thousand people and averaged one genuine player enquiry every day through its website. These are players who would not have known about them without seeing their online presence.