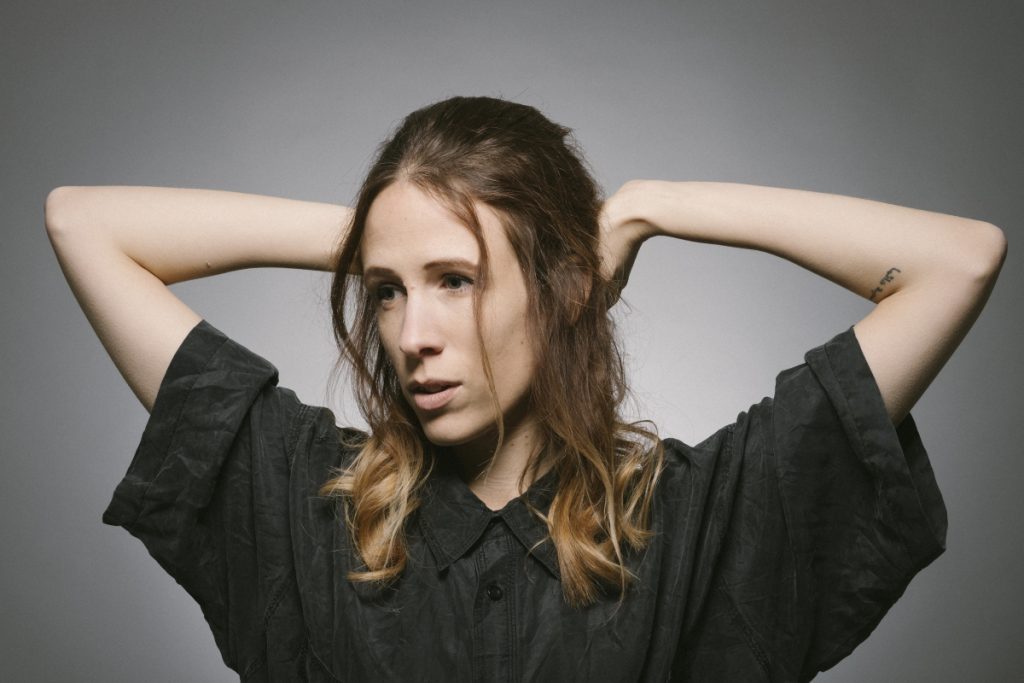 Entitled Revolute the 11 track release touches on topics of love, loss, learning and rebirth
Bristol-born singer-songwriter Katey Brooks, whose music fuses soul, folk, blues and country, is noted as a clear-eyed rebel in an industry that demands consistency.
The unabashed songwriting talent has been delivering to audiences her most honest and authentic work to date.
Although the wandering troubadour defies easy classification, what is certain is her ability to allow listeners to delve into her own world, through contemplative lyricism and hypnotising melodies.
Growing up inside a cult, as a child Brooks found refuge in song.
"It was a very chaotic upbringing, full of some pretty colourful and sometimes unsavoury, characters. But when I sang, I felt free and connected. For as long as I can remember, it's been my way of getting what I need to say out", she reveals. "When I was 22 my mum got ill and she died. And then not long after that, my lifelong best friend went missing and she also died. That's definitely had an effect on the course of my life and my writing. I guess I'm lucky that I have songs that I can write, as a means to deal with things".
Indie LGBTQ artist just unveiled her latest full-length album.
The highly anticipated self-produced album REVOLUTE is inspired by love, loss, learning and rebirth and is the result of needing to break out and reclaim one's self and one's autonomy.
Brooks reveals:
"Completing these tracks is not only the closure of a difficult chapter for me, but the exciting beginning of something new, with my freedom finally found".
A perpetual theme throughout the 11 track release is truth. Bleeding into every song, the songstress is an advocate for being your most authentic self.
The first track off the album is "Never Gonna Let Her Go". A gospel-inspired anthem, it features gentle drums, swampy guitars and emotive soulful vocals. Narrating the strength in resistance the track details the fight for love in a world where everyone around you just wants to tear you apart. Powerfully singing, "I can be the things that I ought to, but I ain't never gonna let her go," she's willing to do the things expected of her, but she refuses to be shamed for her sexuality.
Brooks preaches, "Judge me for my true failings, ask me to change those things that actually effect you, and I'll hear that. But one thing I'll never change, and one thing that is definitely not wrong with me is my love for women".
Then comes the stunningly passionate ballad "All of Me," oozing with raw emotion. With smooth tender vocals and genuine heartfelt lyrics, Brooks belts out honesty as you've never heard before. Frustrated by a lover's uncertainty the song expresses the need to call someone out on their ambivalence. It details a person proclaiming deep love, but their actions show the contrary.
"It was inspired by a personal situation with someone I was prepared to give my world to. They proclaimed deep love, but then proceeded to behave in ways that were completely incongruent with that proclamation", professes Brooks.

"In Your Arms" is an adoring love song proudly professing your affection for someone. The track showcases wistful soundscapes, warm tones and soft choral vocals. With authentic musicianship at its finest, Brooks wears her heart on her sleeve in this beguiling track.
Mastered by Ryan Smith (Adele, Bob Dylan, Talking Heads) and mixed by Paul Quinn, Tarrant Shepherd and Clint Murphy, Brooks set out to inspire others to love themselves. REVOLUTE was beautifully crafted and acts as a reminder that life is too short to live with negativity. With organic instrumentation reminiscent of Jeff Buckley and a delicate vocal tone evocative of Angel Olson, her music is known to be simple and unpretentious. Her honest and sung from the heart, her songs take the listener down an emotional journey as they get wrapped up in her entrancing storytelling.
Brooks has found success recording with the likes of Brian May (Queen), Bill Wyman (Rolling Stones) and Paloma Faith. She has played some of the world's biggest festivals including Glastonbury, WOMAD, the 2012 Paralympics, and Australia's National Folk Festival, as well as garnering acclaim from publications such as Billboard, Gay Times, The Advocate and The Independent. Each of these milestones has brought Brooks to the place she is today, with the confidence and freedom to showcase REVOLUTE to the world. More than ever before, the mercurial songwriter is determined to do things her own way, with REVOLUTE currently available worldwide.