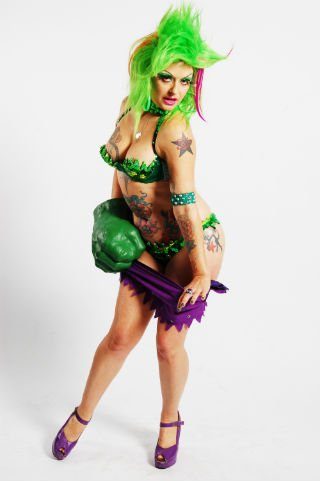 Five sexually empowered women break social constructs of what it is to be beautiful, and what it is to be a woman in their sensuous and powerful burlesque spectacular, Bend.
LOTL chats with Australia's crème of burlesque, World Queen of Burlesque and voted world's No 4 in the burlesque Top 50:  Imogen Kelly, Lillian Starr, Glitta Supernova, Betty Grumble and  Lilikoi Kaos
Can you give us a peep into what we can expect from the show?
Lilikoi: You know that burlesque show you saw… where the women didn't really seem empowered by their bodies? But, were rather just being manipulated by the subconscious patriarchy…this is DEFINITELY NOT that show.
Imogen: Oh gosh – well there is hairy stretchy balls, some phallic clay modelling, a sliver of blue movie action, decapitation, a new way to serve dessert with your nether regions, domestic objects coming to life, giant vaginas protesting labiaplasty and of course a homo-erotic footy scrum. So it's striptease but not as you know it.
Is the show an expression of your own sexuality or is it a satirical take on sex?
Imogen: My work is about exploring misrepresentations of women and sexuality – so I eviscerate everything from Bonds underpants ads to pornography. But it's always me up there and I never shy away from the reality of what I'm trying to achieve – an understanding and acceptance of female sexuality.
Betty: The shows are a fusion of both. My performance honours my sexuality through the collision of comedy and horror.
What makes burlesque a beautiful art form to you personally?
Imogen Kelly: I never aim for beauty. I think it is a mistake to assume that is what burlesque should be about. It is a very limiting concept and the genre then becomes just another platform where women have to push to be accepted the way they are, rather than pushing for acceptance of diversity – beauty is a loaded word. So I like to create awe-inspiring visuals, skilful acts and an amount of chaotic hilarity. I'm personally inspired by creativity, individuality, skill and diversity in performance – these are the things that turn me on. I find conventional, constructed beauty boring as it's a generic representation.


How do you feel about your own sexuality and your body image?
Lilikoi: You can ask any woman that question every day of the year and it will be a sliding and colourful scale from pure goddess to Michelin man. Honestly, I'm the same…depends on how close I am to 'painting the town red'.
Imogen: I love sex, I love fucking, I love orgasms, I love pleasuring – what isn't there to love about your own sexuality? Sex is great. My body has been through so much – babies, cancer, life in the circus and 20 years of touring. I'm covered in survival scars and I love them all. I grew up in a family full of amputees, so for me, a body that works is brilliant! So I love my body, it has been through so much yet I have lots of fun with it and owe everything I have to the fact that it works. I'm a very physical person. I'm happy.
Glitta Supernova: I feel really at peace with my sexuality and body image, I always want to explore new ways of having sex, playing with power, love and ritual. I am in a committed relationship of nine years and sex is very important to us both. My body is all va va voom woman, with tits and arse and I love my curves and femininity.
What advice would you give to women who push their sexy lingerie at the back of the drawer and who blush about their own nakedness, and don't really know how sexy they can be and feel?
Lilikoi Kaos: You're beautiful. But not everyone should have to express themselves through lingerie. Strength, beauty and intelligence is expressed in so many different ways. Just be happy in yourself, which is hard for everyone, even people you think are super confident, have down days.
Imogen Kelly: It's not about lingerie – it's about attitude. It's about fighting all the bullshit you have been brainwashed with all your life and letting yourself like your own body. It's insane that we live in a society that still discourages women from being connected with their own bodies or even feel a sense of ownership. So my advice is to stuff getting up in lingerie and getting onstage – you don't have to go that far to prove a point. Just look in the mirror and admit there are parts of you that are fabulous. Confidence comes from knowing that you're enough as you are. At the end of the day, I'd love to live in a world where women felt good about being women without all the added frills.
What are you trying to communicate to your audience through this performance?
Glitta Supernova: I use art as an expression for social change and I hope to give my audience a different perspective on the reality that's forced feed to us through media and the conditioned mind.