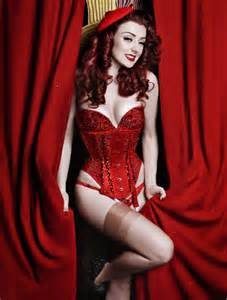 Burlesque Documentary has received an R 18+ from the Classification Board
This is not surprising given its bold, fearless and unapologetic exploration of the far edge world of burlesque and performance art
The cutting edge performers combine politics, satire, and physical comedy to question the very concept of "normal." The body types of the performers range from statuesque to transgender to disabled, and their personalities from sensational to scintillating. Through them, we get to examine our own inhibitions.
These performers are part of a unique subculture, yet they come from surprisingly diverse economic, social and political backgrounds. As they peel away their clothes – describing their journeys and commenting on their performances – they peel away our preconceptions and inhibitions. Ancient moral, religious and sexual stereotypes are seen from new perspectives, and a new generation of the cultural avant-garde comes to light.
Featuring the infamous Dirty Martini, Mat Fraser, World Famous *BOB*, Bambi the Mermaid, Rose Wood, Bunny Love, Tigger! and Julie Atlas Muz. Watch them take hold of a classic, yet taboo, art form and drive it to extremes.