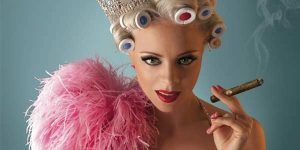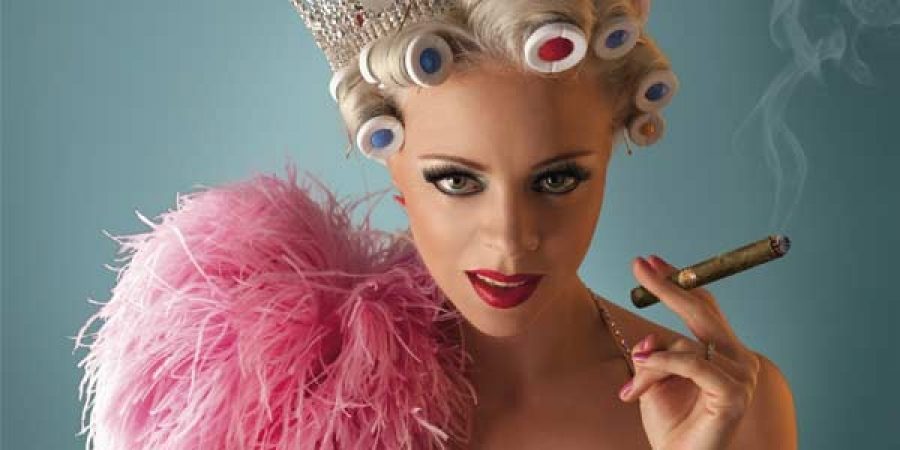 Performer Imogen Kelly reveals the how and why of her Burlesque journey and why she's so looking forward to performing at the Gangster's Ball
How did you first get involved with burlesque performance? Did you love shaking a tail feather as a kid?
I first started performing variety shows at home to try to cheer mum up as she had cancer. My acts included magic, puppetry, acrobatics, Blondie drag, the odd one woman can-can and rocking out in the contents of my Royal Easter Show Kiss show bag. Being naïve in all things showbiz and coming from a family of nudists I thought nothing of doing the costume changes on stage- she always said it was her favourite part of the show.
Egged on by the pre-teen bumping and grinding of my friend Anthea I did my first official striptease for the girls in my dorm at a Christian camp- age 7. The girls all loved it and soon we were all doing it- jumping on the top bunk in bobby socks screaming out "Da na na boom."
My first accidental strip was at Sleaze Ball when my costume fell off- I just kept going… audience went wild…  yadda yadda.
I started professional stripping on the Golden Mile as a teenager but was quickly drawn to the underground queer performance scene in Sydney in the 1990s- it was hedonistic, debauched and massively glam.
I then started relentless international touring and branched out into cabaret, circus, vaudeville, comedy and magic some of which you will see in play at this year's Gangster's Ball.
What do you think makes for a great burlesque act?
It takes courage and intelligence to create great art and performance is no different. A great actor needs to be able to shift the audience' hearts and minds. The best performances are the ones that make you think and make you feel. I like to make people feel joy… and lust.
When I'm watching a fellow performer I like to be taken away on a journey- fall into the rabbit hole of someone else's imagination without feeling dictated to, assaulted or patronised.
Why do you think burlesque and vaudeville have seen a resurgence in the past few years?
I believe that the explosion in burlesque is about women reclaiming their sexuality from ugly hetero porn, rubber boob strip clubs and the body fascism of the fashion industry. The sexualization of women in porn and the media is something most of us struggle to identify with because it's not actually generated by women. Contemporary burlesque is about women of all shapes and sizes getting up and expressing something about their sexual identity- it can be pretty-pretty or fierce-aggressive, elegant or grotesque. Sure there is a popular aesthetic that tends to dominate but the great thing about neo-burlesque is that the performer is in control of how she chooses to represent herself.
Vaudeville and cabaret are becoming equally as popular.  Australians are internationally known for their brilliant cabaret and Vaudeville artists. We are totally spoilt for brilliance in this country.
With the advancement of technology and the instantaneous experience that is the internet, the live experience has become something people crave.
I was performing in Singapore not so long ago I was on a swing above the crowd. I'd finish my bit and the lights would turn off and all I could see were hundreds of screens of telephones and cameras as the audience filmed the rest of the show. I guess they just wanted to prove that they had been there – I guess they all watched it when they got home to their human interface devices.
Personally, I like being alive. I offer a one-off experience and if you ain't there- you miss it.
How would you describe the local burlesque scene in relation to its OS counterparts?
As said before Australia rocks out with its cabaret artists. We're a bent bunch. Our sense of levity, humour and warmth is in high demand everywhere I have been.
Our scene here is unique. Sadly we don't have a history of celebrating our artists so each generation is reinventing the genre according to their own interpretation, so we are always fresh.
The great thing about Australian cabaret is that it's fun and downright cheeky. Many performers on the international circuit take themselves so seriously they kill the act- snore… Aussies just wanna have a good time and give a good time.
 You've performed at previous Gangster's Balls, what do you like about performing at the event?
I really love this event- I don't say that about every show. It has a warmth that is rare and it all comes from The Velvet Set. There's nothing like sharing the stage with such a massive band. I just stand in the wings and am taken back in time to dance hall days of swing dancing, glamour, razor gangs and ball gowns.
As for my act, it can be quite a challenge creating for such a diverse audience. The audience is gorgeous by the way- they dress up and really go for it on the dance floor. Last year I performed at 7 months pregnant. I revealed my enormous belly and you could feel the air being sucked away from me by the audience taking a collective gasp. I stood in the vacuum and for a moment I thought I'd made a huge mistake stepping on stage at all. Then came the roar of applause- like a wave of heat- one of the most memorable performances of my career.
What do you think punters can expect from the Gangster's Ball?
The focus this year is not actually on burlesque at all so you can expect a lot of variety from an exciting lineup of performers from all over Australia. There are trapeze artist Mark Windmill, cabaret by Anna Lumb, magic by Julia Madotti, stunning aerials by Lou Lou, virtuosic pole dancing by Jamilla, swing dancer Kelly Anne Doll, a vaudeville by Circus Tricktease, The Velvet Set… and me.
A wild glamorous night … not to be missed!
How do you think the burlesque scene has changed over the years and what do events like Gangster's Ball contribute to the scene?
Let's just say that when I started doing burlesque I felt doomed before my life had even begun. Striptease was really frowned upon. I may as well have been a crack whore. We were all severely judged by society and doors were just slammed in our faces. This is the reason why burlesque performers started coming up with crazy stage names. Mine was Lushus D'lux it afforded me some sense of anonymity.
I was spat on, had beer bottles thrown at me, cigarette butts put out on my skin and was physically assaulted more times than I care to recount. Mind you I gave as good as I got- I used to wear a razor in my garter belt which I rarely had to use as I throw a pretty mean punch. My friend Larissa used to wear a flick knife in her boots. Then there was a girl named Jasmin who used to go on stage with a baseball bat. I can't actually tell you what she used to do with it. Let's just say she used it as her prop but had the added advantage of being able to thump drunk yobbos with it. My all-time favourite was the ex-Les Girls dancer who did a fire act. Many a time you'd see some drunk yob screaming for the toilets with the crutch of his pants on fire-hehe. They were wild times and we were the refuse of society… we had no rights.
Now it seems that anyone can see a bit of lady flesh in any old bar… I'm surprised they don't have to drive through burlesque service at Macdonald's- titty Tuesday and booby burgers for all the family. It seems to be surreal to me as it has all become so diluted. The greatest things about The Gangsters Ball and other big events- there ain't no rubbish. It's a big stage so you won't be paying to see the housewife from next door fresh from her burlesque classes in crotchless panties. Just stylish, fun, sexy acts and a kick-arse band playing the best swing you'll ever hear