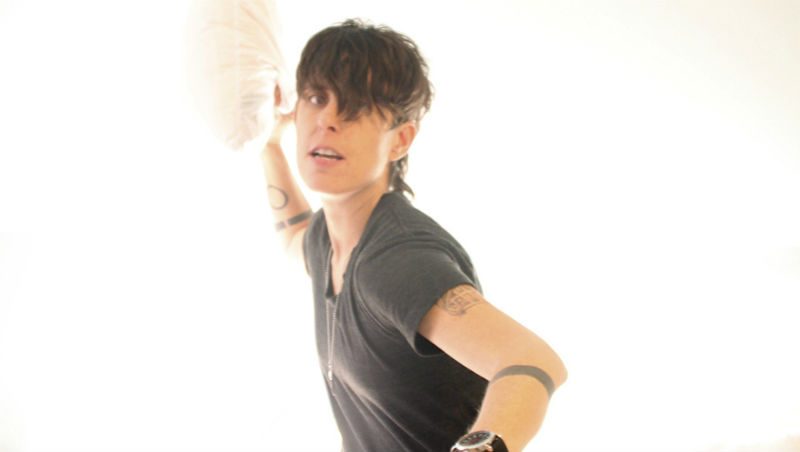 We can tell Andrea Gibson is a badass with just one glance.
Chic short hair, tattoos—we can tell Andrea Gibson is a badass with just one glance. Behind that exterior, however, is a deep soul; a deep soul that has the most perfect way with words.
If you've never had the chance to get into the world of slam poetry, it's a good time to start, and I suggest beginning with Andrea Gibson.
What can I say about this poet born in little ol' Calais, Maine? Plenty. You'd need an abundance of words to highlight and describe their soaring and flowing spoken-word poetry—and I use "they" and "their" as pronouns because Gibson identifies as genderqueer.
Gibson contributes to an art raw in emotions, an art that delivers poignant messages on gender, spirituality, war, love, bullying, class. These words have the power to move and enlighten.
"I rarely write with the hope of changing anyone's mind, but I do write with the hope of changing people's hearts, and that includes my own," says Gibson. "I think we have a tendency to shut ourselves down to survive this world, and art gives us a container where feeling all that we feel isn't so terrifying."
Gibson's way with words will make the tough weak in the knees, so you'd be right to wonder where it all stems from. "I'm a sucker for love," says Gibson. "If the world wasn't such a mess, I'd spend my life writing only love poems.
Even writing about heartbreak feels like a celebration. So much gritty grace is required for us to open enough to be wounded. I don't think there's any art more worthy of our attention than the art of loving people well."
It's no wonder that flocks of women travel from near and far to get the chance to listen to Gibson lament from their romantic hearts. The 35-year-old admits to being an incredibly awkward talker and says that finding topics of conversation with a date can prove to be a challenge.
"One of the reasons I started writing was because I could never find the right words in conversation," says Gibson. "I actually have a poem in which I tell a story about the first time I dated a woman who had children. On our second date I said, 'So, your vagina, it's really rad that babies have come out of it…' It was mortifying for both of us."
Coming out is also fertile ground for language and Gibson feels like the coming-out process will never have an exact end-point. Initially coming out as bisexual in 1997, and then lesbian a year after that, Gibson now identifies as genderqueer.
But this, too, may evolve. "I assume I'll spend my life shifting and becoming and trying my best to pay close attention to the pull of my own heart."
Currently, on tour, Gibson is hitting concert venues and college campuses across the country, and loving it. "I love being on the road. I try to never book a venue with age restrictions, and have specifically been blown away by my conversations with LGBTQ youth."
The conversation continues on the page in PANSY, Gibson's third collection of poetry, and touches upon a variety of deep topics. "There's a lot in it that I was afraid to write, and that fear has historically been a pretty good indicator that I should not stop typing." (andreagibson.org)