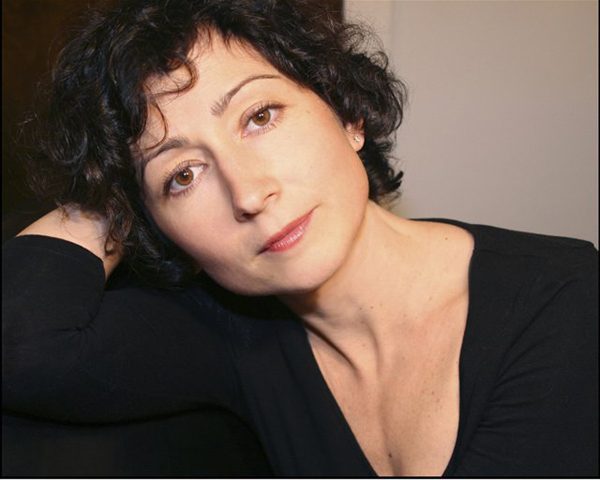 The Person of Interest star opens up about playing a lesbian cop, equal rights and her love of Danish movies.
Directed by Christopher Ward, Person of Interest is a gripping and suspenseful drama that centres around three missing women in a small New England town. Lesbian Sheriff Nickie Welles, played by actor Elise Rovinsky, sets out to solve the case in hopes that it will save her job—which is at risk due to police force cutbacks. A definite must-see for mystery lovers, Person of Interest provides a compelling crime case and complex and believable characters. I recently spoke with lead actor Rovinsky to discuss her role, and her experience playing a lesbian in the film.
Can you tell me about what drew you to the film, and the character of Sheriff Nickie Welles?
Well, she's so human, you know? She has this tough job, and there are just so many different facets to her. She's supposed to be the tough guy a little bit I guess, because she's the sheriff, and she's in charge of everything. But she's mushy—she's a human, and all these terrible things keep happening around her, and she has to try to be tough and stay together. I feel like you can relate to her. I mean, she keeps on trying and things keep falling apart, and we certainly know that in our lives, as everyday people, that that is what happens. So, it kind of made sense.
Very much so, especially since she has this looming threat of losing her job, which a lot of people can probably relate to nowadays.
Oh, absolutely, yeah. Not knowing what's going to happen, but still wanting to solve this one last case before going, and of course, in her situation, being gay in a small town—that can't be easy.
According to the director, your character was inspired by one of his previous documentary films—about a policewoman who was a lesbian. Did you ever meet her?
I didn't meet with her. Chris told me a little bit about her, that he had followed her, and that all the things that happen in the film are true. These are from different stories, from Chris' life—so he's been [personally involved] in everything that happens in the film. Not with everyone, of course, but particularly with this woman, who was having a hard time, and I think she was about to lose her job.
Your character is central to the plot, but at the same time, Nickie's lesbianism is not made the centre focus. Was this intentional?
I mean, it's just an aspect of that. It's a thriller, and they just happen to be gay. Nobody's hiding anything—it's just a part of them. It's not the main focus, and I just feel like that's the way things are perhaps more easily accepted into society as well. That was actually a big thing that I wanted to [address]. I mean, I live in New York, and I have all kinds of friends. Everybody's my friend here. And of course, there are people across America who don't know a single gay person and think that anything that is gay is being shoved down their throats. I think that this film just shows that we can look at these characters and say, oh my God, this is exciting—oh, and they happen to be gay.

Your character is in a complicated relationship with Detective Sandra Franks, played by Julie Bell. What was it like working with Julie? Did you two feel comfortable with each other?
We were so comfortable. It was—we were laughing in between takes. And the DP actually—you know the funny thing is we shot the bedroom scenes the first few days of shooting. So we had just sort of gotten to know each other, and then we had to do this. [Laughs] And of course Chris, the director, said that only essential personnel in the room could stay. It was so relaxed, and we were joking around in between takes, so there was no weirdness at all.

One of the most poignant moments in the film, I thought, is the scene between you and Julie that takes place in the bedroom. There's this emotional gulf between the two of you, and yet the scene feels so intimate. How did you accomplish this?
Julie and I completely knew who these women were, and we knew their relationship, and their struggles, and um, I think that all just kind of happened naturally. We knew a little bit of the tempo—that it was supposed to be, oh here she comes back to me, and we had broken up and she all of a sudden comes into my life again, and I was conflicted, and then at the moment thinks ok, I'll give her a chance again, and then she turns away. So we had a few beats—a few moments that we knew we needed to touch upon in order for the scene to make sense. But, everything just flowed so naturally.
If I remember correctly, neither of you spoke throughout the entire scene, yet you both convey so much emotion. Was there an inner dialogue you were working with?
Yeah. I mean, I knew our back story—that she had hurt me. So I left the relationship. And of course, Nickie, the character, is out, and Julie's character is not. So I think that Nickie was very conflicted going into that again because I guess it was tough for her—sort of being in Julie's closet the whole time. I mean, physically and emotionally she wanted to go back to her, but she's trying to listen to her brain a little bit as well. So there definitely was a story going on there.

I could definitely see the conflict in your facial expressions during the scene was just really well done.

Oh, well thank you.

Are you formally trained as an actor?
Yeah, I went to school in Sweden. I grew up in Sweden. My mother is from there, and my father is from New York. I went to school in Sweden before coming here, and then I went to the Stella Adler Conservatory of Acting, here in New York, in the graduate program. And of course, you know—classes here and there. Film and TV—we all sort of grab when we can.

How long did you live in Sweden?
I did most of my schooling there. I was born in Sweden, and then we moved to Texas when I was just a few months old, and I was there till I was seven, and then we moved back to Sweden. So yeah, it's a whole long story—but I spent about half my life in Sweden. I love the bustle of New York City though. I can't imagine living in Sweden—it's a little too quiet for me. Of course, it's wonderful to visit, but it's very pale.

What other projects do you have in the works?
Well, one is playing the lead role in a short film based on some artwork by Bruno Shultz, called Calico. The next project is a feature film called Huldra, which I also have the lead female role in. Both films will be shot in Sweden in July.
If you weren't an actress, what would you be doing?
Oh gosh. The thing about this is—and I laugh about it all the time—I am so indecisive. In my real life, I don't know what cereal to buy, or if I should drink coffee or tea. So that's why being an actor is great. You get to play everybody. You can do everything. That might sound trite, but you can do everything. So, what would I be? [Laughs] I don't know.
If you could work with any director, who would it be?
There is a Danish woman; her name is Susanne Bier. She directed After the Wedding. If you have Netflix, but every single Danish movie that you can find on there. No one makes movies like Danes. She is wonderful.
Is there anything else that you'd like LOTL readers to know about you?
I support [the lesbian community] in everything. I think—hopefully—society is going in the right direction. I mean it's so different when you live in New York. It's a completely different world. I mean, my husband and I—we sit and watch MSNBC all day long and it's just—it's so infuriating how it's ok to bash gay people. I have to say, going in to play this character, I knew she was gay to begin with, but it just fit. And I wish that people could understand that these are just people, who get up in the morning and do what they have to do. Hopefully, people will see the film and enjoy it. It ends on a happy note, which I hear a lot of lesbian films don't.
That's definitely true, I think. There's the lesbian tragedy trope.
[Laughs] Right, so maybe this will be a change—a happy ending, so to speak.