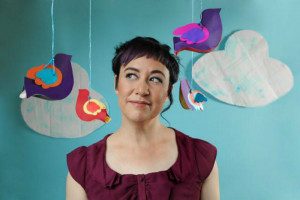 Coro Innominata is a Sydney-based chamber choir promoting performance excellence.
I was lucky to experience the wonderful music brought to life by Coro Innominata and Sally Whitwell. It was pure harmony, pleasure for the ears, and food for the soul. A group of female and male singers brought to excellence under the leadership and musical skill of Sally Whitwell.
Sally is no stranger to the LGBTQ community, and we all know the impact she has in the classical music, music theatre, and choral community of Australia.
Her talents go further than playing the piano, in her role as an accompanist and composer. Her ability to arrange popular music, classical music and 20th-century music was palpable on Sunday afternoon, and once again she proved that less is more. Under Sally's direction, Coro Innominata shared a message of revolution, remembrance and reflection. This was achieved through beautifully crafted music and the accompaniment of cellist James Beck. The music performed included The Path containing the words of Mahatma Gandhi: "There is no path to peace. Peace is the path."
Beautiful simplicity in the execution of the music was mesmerising.
It was delivered together with the passion of Sally's musical direction, and a commitment to every word and tone uttered by each member of the choir. The last piece in the program was that of the composer Henryk Gorecki, Miserere which conveyed a prayer for those who had lost their lives during war or other tragic circumstances. The piece reminded me of the shooting in Orlando and those who had lost their lives, and so many servicemen and women who lay down their lives for us. The words uttered are,
"Domine Deus noster, miserere nobis."
Translated – Lord, our God, have mercy upon us.
Upon brief discussion with Sally, she shared her thoughts on choosing these two pieces of work for the program.
Sally explained that she chose Miserere because 'Minimalism is a genre that has been important in my music-making for a long time now, especially the piano works of Philip Glass, a few of which I've been fortunate to premiere. So a sidestep into Sacred Minimalism wasn't too much of a tangent. I'm not a scientist so it is hard for me to describe this, but I feel a kind of physiological response to repetitive musical structures. Perhaps it is the feeling that people get when they do guided meditations? My meditation is playing minimalism.'
Sally shares her exploration of Gandhi's words on peace in the program as wanting 'to express something about non-violent direct action which is in the front of my mind a good deal at the moment. For a start, it's becoming something big in my neighbourhood with the encroachment of a horrible freeway system Westconnex.
And with the state-sanctioned homophobia of a Plebiscite on marriage equality approaching reality. The necessity for standing up for what you believe becomes stronger every day. I stand up for what I believe and I try to do it in a respectful and 'peaceful' way.'
Sally's work is the embodiment of passion and living a creative life, and she unapologetically continues to fill the silence with music for every generation.  Sally 'can't imagine doing anything else. Each thing that I do is for a specific reason (…). Sometimes it's just to put something beautiful in the world, sometimes it's to make people think, to build community, to provide an oasis from everyday lives.'