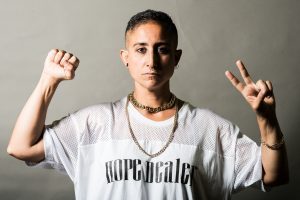 The first moment when you come in contact with Candy Royalle, it is her eyes that speak of passion.
More than one life lived, and compassion for others is hard to find in this day and age. I can't help but look again because I want to know who she is, and how her love for the written and spoken word has evolved over time. It was a quick, insightful and intense conversation with Candy, and I found a woman full of insight, hope, sensitivity, understanding, and conviction. Her artistic work begins with her love for poetry and it cuts across boundaries, which moves into film and song, to name a few. She has been a performing artist for ten years and speaks of how her journey started.
'I was nineteen and accidentally I ended up in a place where people were performing their poetry, which I hadn't seen before. From there I understood that I would be able to probably access more people if the work was performed as opposed to published (…). Over the years I have mostly been driven by the need to connect with as many people as possible, so that is why I try and use different types of performance.'
Candy goes on to explain the number of artists she has collaborated with over the years and shares,
'I've collaborated with many artists. I've been working with the same musicians for about five years now. Originally they were a trio and now we are a group of six – (and includes) a trumpet player, a keyboardist, a bassist, a drummer and (…) Betty Grumble. The shows we put on are very politically driven, radical far-left, feminist (…). Working with them has been an amazing process. We create all different types of music and trying songs together. They are very good, and provide a musical backdrop to my poetry.'
Her collaborations include working with composer Ashley Blackmore and filmmaker Patch Sinclair that led to the release of the film series TWELVE and the film And then there were two. We spoke of pushing artistic boundaries and in which direction her work is headed and she explained that,
'If music is the international language that everyone can understand, and poetry is the art that is the most visceral, and engages the heart the most, combining the two we can really bypass the intellectual and head straight for the emotional. (…). I am constantly seeking new ways and new grounds that I break for myself as an artist and for my audience (…). I want to push the idea of poetry and poetry's place in relation to other crafts and accessing people who would not necessarily listen to poetry.'
Her poetry fused with various musical sounds becomes a form of music in its own right and speaks not just to the mind but the heart. Her work carries a message for those who are open to the truth of life. She views herself and her work as a "gateway drug" for other individuals who may not have been familiar with various forms of poetry, thereby opening a new world of possibilities for others. Candy has carved out a prominent place for her poetry and performances in the LGBTQ and wider community. She brings a fierce and warrior soul to others, and she allows her audience, in return, to share their vulnerability. This makes for poetry and music that is charged with a passionate fire, which is hard to quell. Her poetry grabs your attention and won't let you go until you've seen, learnt and shared something about yourself along the way.