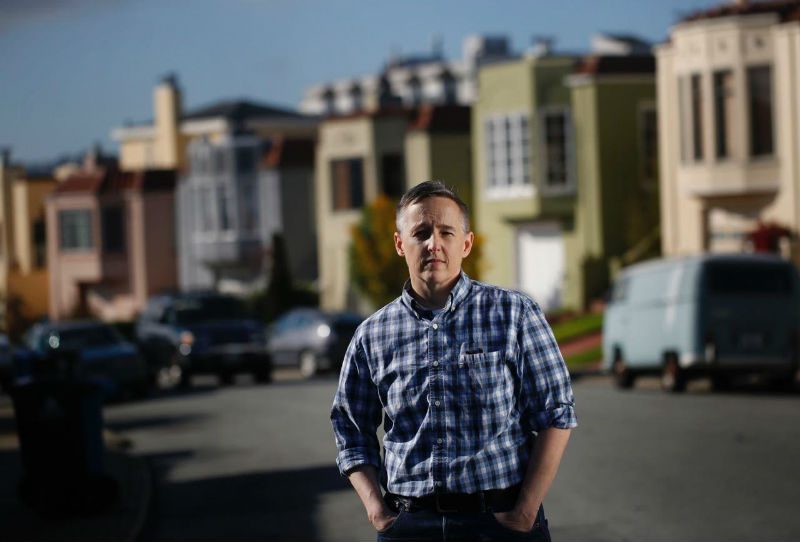 Queer filmmaker Jenni Olson on her new film, 'The Royal Road, and her unique filmmaking style.
You've been part of the LGBT film world for nearly three decades now, not just as a filmmaker, but also as a historian, curator and archivist.
Can you tell us more about your background?
Yes, I like to say—and I really believe it's true—that queer film saved my life. In 1986 I was getting my B.A. in Film Studies at the University of Minnesota when I read Vito Russo's book The Celluloid Closet (about the history of homosexuality in the movies) and it completely changed my life.
It enabled me to come out and inspired me to start an LGBT film series on campus, which then merged into the Minneapolis/St. Paul LGBT Film Festival. At that time I also started researching and writing about LGBT film history and collecting actual queer films and film memorabilia (posters, etc.).
Eventually, I went on to write a couple of LGBT film books (including The Queer Movie Poster Book which was nominated for a Lambda Book Award) as well as creating the PopcornQ database at PlanetOut.com (which was a kind of gay imdb). I worked at Frameline: The San Francisco International LGBT Film Festival in the early '90s and also co-founded the Outfest Queer Brunch at Sundance. I'm also a founding member of the advisory board for the Outfest/UCLA Legacy Project for LGBT Film Preservation and I still do some writing about LGBT film for Queerty and AfterEllen.com.
As a film programmer and film critic, I was always most strongly drawn to certain LGBT experimental films and filmmakers Su Friedrich, Marlon Riggs, Sadie Benning, Chantal Akerman and William E. Jones were my strongest influences. So when I started making films in the early '90s I chose to work in a more experimental format, specifically 16mm urban landscape essay films.
Your films have strong themes of desire, sexuality and romantic obsession. The Royal Road has been described as: "a humorous exploration of butch romantic desires."
How do you see your sexuality as informing your point of view as a filmmaker?
I've always been interested in three main things in my creative work: Storytelling via experimental forms, illuminating lesser-known histories and representing queer identity (with a special focus on butch lesbian experience). I definitely think of myself as a lesbian filmmaker.
There are so few portrayals of butch characters and experience in cinema—and I feel that I have so many interesting things to express that is very much informed by my experience as a butch dyke. One of the most gratifying things for me as an artist is when people tell me that my films make them feel less alone. It's also pretty great that it seems almost everyone can identify with my themes of unrequited desire (I actually seem to have lots of straight guy fans in this regard).
That said, I also am realistic about the fact that my style of filmmaking can be a bit more challenging for viewers since it is so unconventional. I think that audiences are usually pleasantly surprised at experiencing my work. One of the most frequent responses to my first feature, The Joy of Life was the comment: "I've never seen anything like it."
Can you talk about your aesthetic choice to combine these very long takes of essentially unmoving landscapes with a style of voiceover that is alternately intimate and remote?
I'm very interested in exploring the idea of the persona in storytelling. My films are written in a first-person diary-style; at times it's almost as though each individual viewer is being spoken to directly as a close personal confidante. This creates a unique intimacy in the experience for the audience and as we segue into the more documentary-like topics (the history of the Spanish colonization of California and the Mexican American War) ideally the viewer still feels an emotional connection to the narrator who has been revealing so much personal information and sharing her vulnerability. Like a poet or songwriter who writes in the first-person using a persona, I mainly experience my narrator as a character.
Of course, much of what I'm saying really is about me but I also take this on within the content of the voiceover itself as I reflect on what it means to be identifying with fictional characters as a means of survival. Of course, I also make frequent reference to classic Hollywood cinema, with a special affection for Hitchcock's Vertigo (which serves as a cinematic muse for me and is one of the central organizing factors of the film). Of course, El Camino Real is the film's other primary muse.
A little known fact: The project was originally called Get Me Guinevere Turner (after my friend the well-known actress and writer who is best known for Go Fish and The L Word; and Guinevere remains a kind of phantom-muse of the film—my Kim Novak if you will). Since Guinevere lives in Los Angeles and I'm in San Francisco, and since I've always been deeply interested in exploring California history, I had the thought that I could use El Camino Real (The Royal Road) as a structural device since it connects the two cities. And like the innovative 1985 first-person documentary, Sherman's March—which promises ostensibly to be an exploration of General Sherman's Civil War-era devastation of the South but in reality becomes an exploration of the filmmaker's love life, The Royal Road takes us on a journey through both internal and external landscapes (as well as the history of a different American war).
You cover many different themes in your writing—California history, classic Hollywood films, nostalgia, a provocative gloss on the Mexican American War.
What are you trying to achieve in combining so many disparate things?
By choosing to work in this unconventional essay form I'm able to investigate a wide array of my interests and make observations (as one does in a conventional written essay). I don't always know where this exploration will take me. In my previous feature, The Joy of Life—I knew I wanted to delve into the history of suicide and the Golden Gate Bridge (alongside my trademark mode of partly serious and partly humorous pining over unavailable women). For this film, the exploration of the Spanish colonization of California and the Mexican American War arose kind of organically as I was writing.
How did you decide to use the Tony Kushner voiceover in your film and why?
A. I got to see Tony Kushner give this lecture in 1998 that was then called, "The Intelligent Homosexual's Guide to Socialism and Capitalism with a Key to the Scriptures" (he later decided to use that title for one of his plays). The lecture included a short but powerful reflection about nostalgia—basically a critique of nostalgia as a bourgeois escapist phenomenon—which made such a huge impression on me that I was inspired to write a response to it, which I called "In Defense of Nostalgia." As I was writing the script I realized this whole topic of nostalgia was really at the core of the whole film. So I reached out and asked Tony's permission to include the audio recording of him in the film, and he very kindly granted me permission. His appearance in the film is brief but pivotal, really a voiceover cameo.
How did you decide to make landscape films? And can you talk about why you focus so much on the urban landscapes and architecture of San Francisco and Los Angeles?
One of my original reasons for wanting to make landscape films was that I could combine two forms of artistic expression—my simple static urban landscape compositions and my stream-of-consciousness prose—into one creative project. As a landscape filmmaker going about my daily life in San Francisco, I basically am living in a movie—I'm surrounded by great shots and constantly scribbling down notes about certain streets and buildings I want to shoot, the quality of the light, the time of day, etc. I've been documenting the city (especially the mundane beauty of our industrial areas, empty alleys and lesser-celebrated landmarks) since 1997.
I make reference to this explicitly in the film. Because I'm shooting on 16mm film—and I physically possess the celluloid negative, I really do feel that I now own these landscapes that I love. In the script, I quote a line from Vertigo where the Gavin Elster character says,
"The things that spell San Francisco to me are changing fast." I observe in the film that this is: "a perennial lament clearly as old as the city itself."
These lines have a vivid resonance right now as the pace of real estate development has gone into high gear in San Francisco. I also really love the landscapes of Los Angeles—especially because one is surrounded by famous Hollywood movie locations.
The film includes shots of Barbara Stanwyck's house in Double Indemnity, William Holden's apartment in Sunset Boulevard, the Hollywood Center Motel from L.A. Confidential and the Church of the Good Shepherd in Beverly Hills (the site of James Mason's funeral in the 1954 version of A Star is Born).
In the same way that Sunset Boulevard is a Hollywood movie about Hollywood movies, The Royal Road is a film about film.