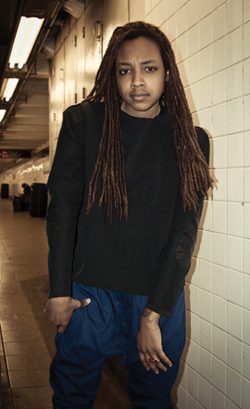 The up-and-coming designer channels androgynous femininity in her latest clothing line.
At 23, out lesbian designer, Sheila Rashid is making a name for herself in ways she never imagined. "I initially wanted to be a journalist and start a magazine," says Rashid. But in high school, her ambitions took a turn when she began painting T-shirts and hoodies. By the time her senior year rolled around, she traded in her journalism dreams for fashion design and applied to art school, eventually landing an internship gig with Chicago-based designer, Horacio Nieto.
That bold decision has led Rashid to the forefront of up-and-coming fashion designers who live and breathe the foundation of their brand. "The message behind the Sheila Rashid brand is the result of how women (or men) feel when they put on a pair of drop-crotch pants or a dress; to be comfortable, confident and powerful. The Sheila Rashid woman feels royal and humbly vain," says Rashid, who says she is inspired by style icons in the fashion industry like edgy, avant-garde designers Alexander Wang and Jeremy Scott.
Her first collection for Spring/Summer 2011—which she debuted in September of 2010—introduced impeccable, tailored pieces, like her signature drop crotch and harem pants, calling to mind a high-fashion take on 1980s Brooklyn. Rashid showcases her many made-to-order designs in her blog, stating: "Will swag out anyone for any occasion." Her site features an online store where you can browse all her latest garb including her harem pants and power dresses. Most of her pieces range in gold hues and denim and hip, clever T-shirts that take her back to her design roots.
Rashid is lending her skills to the art of timelessness. "Each piece is set apart by the subtle change of rules in design, such as a zipper going down the sleeve of a dress," she explains, focusing mostly on "androgynous influences and feminine power." Rashid's dresses are all about the shoulders. But perhaps it's her attention to detail that makes the brand function so well. "The styles I am most drawn to are the details in each garment. The seams are inspired by geometric shapes, which gives the collection a fresh, stylistic edge, but a classy feel." And with that meticulousness comes finding the perfect blend without over-mixing her vision. "I'm challenged with keeping a balance between too much and not enough details."
It's that seesaw of craftsmanship that brought Rashid an invite to be one of eight designers at the Italian Expo in Chicago in 2011—her home turf. In that same year, her collection was featured in the Emerge! Fashion Show for New York Fashion Week. America's Next Top Model stars Kayla Ferrel and Keenyah Hill have worn Rashid's pieces—Hill posed most recently for the 2012 collection. And Rashid notes one event, in particular, a meet and greet she made happen at Remix the Runway in 2010 with model Keri Hilson, in which she gifted her with an original Sheila Rashid dress.
As a young designer with a fresh take on shapes, patterns and the way a piece of clothing can so perfectly accent your best features, Sheila Rashid is reinstating the most classic mantra of all, in fashion and in life: There is nothing sexier than confidence, and wearing that confidence well. (sheilarashid.com)