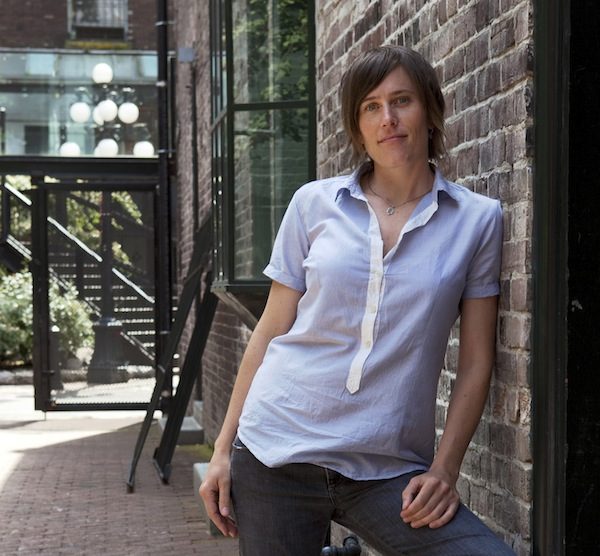 Andrea Wing, founder and CEO, stands at the helm of a video-on-demand website that houses the very best of the independent queer film circuit.
Just three years ago, Andrea Wing, like so many lesbians, was tired of watching mash-ups on YouTube and was ready to put her High Art VHS up on the shelf for good. As a filmmaker with a particular affinity for creating documentaries, she felt a necessary pull to create a website where filmmakers and viewers alike could come to submit, browse or view an impeccable library of high-quality indie queer and lesbian films. A year and a half later, BuskFilms was born. And the timing couldn't be more perfect.
Manned by a small team of people who curate and receive submissions from all over the world, their library now houses nearly 150 films. Still very much a startup, their catalogue of queer and lesbian films, has slowly begun to expand into gay and transgender categories, the main focus remaining on quality content that will give filmmakers a platform to distribute their films, receive a large percentage of the revenue from their rentals received through Busk, and users a website to conveniently discover new film treasures they would perhaps not have access to otherwise: the perfect blend of story-telling, sharing and benefiting.
"We essentially want to give our viewers the film festival experience online," says Wing. The site's film scout, Mel Pritchard, is one familiar face you may recognize at countless film fests all over the world, where the experience of not only finding new content but also putting a face to the film, is a must for Busk. "You get the meet and greet and it's great to sit down and shake hands with the filmmakers and really explain what we do because I think the age of the Internet is just funny. No one really talks anymore, so it's lovely to see people," says Wing.
The hands-on nature of BuskFilms makes the website a must-destination for the film lover. Single rentals go from $1.99 for a short to $4.99 for a feature-length film, with a 48-hour window to watch your pick. At this time, only rentals are available as opposed to downloadable films, due to the modest library size, distribution and territory rights, and the different levels of accessibility from around the world. "I think it's a great idea though," says Wing, who mentions they will eventually bring in PayPal as an alternative payment method, which at first rejected BuskFilms for being "obscene."
Wing fought the good fight, however, defending Busk, "I was like, 'It's not porn! It's all independent queer film.' And thankfully, I think the distinction was there." The stigma of queer cinema still lingers but has changed significantly. There's a notable push to bring queer cinema into the mainstream, which we've seen unfold more and more over the course of the last three years BuskFilms has been curating its content. "The Kids Are Alright really charged forward, and yes, it's a queer love story, but it's not focusing on being gay. They are gay in the story, but it's becoming more of humanistic storytelling and not just about coming out." And Wing knows how important it is to share these stories, as opposed to suppressing them.
"I was contacted by a woman in Egypt and she was so thankful for our site, but she was too afraid to use her credit card for fear that it would be tracked back to her and she was going to be persecuted for that…You realize that we're the lucky few that have the stories all around us. And for these people that live in remote places that don't live this culture, I think it's so amazing that we can reach someone like that, and it totally makes all of this worth my while," says Wing.
That progressive mentality is what continues to shift attitudes, preconceptions, assumptions and fear-based apprehensions now played out onscreen to larger audiences. "Kudos to the directors and producers who have had the guts to really go out there and push these films. People are educating themselves…and that's all we can ask for." But we have to give kudos to Wing, too, as she stands boldly at the hearth of a group of people navigating through the technological advancements and attitude adjustments, online and in our homes, to put a namesake, a voice, a place, on queer cinema like never before. Because of sites like Busk, conversations will get started, questions will be asked, and queer artists will, undoubtedly, be motivated to contribute their work.
Like a domino effect, BuskFilms has opened many doors, in the filmmakers who submit their work to the site, who then tell their friends and colleagues about Busk, and by word of mouth expand the film submissions. And doors open for Busk. Most recently, they signed a deal with U.K. distributor, Peccadillo, who added 30 films to Busk's library The reach, the potential—it's like watching a spark turn into a blazing inferno for Wing and her team. "We screen everything that comes in, and we're really supportive of the process. I really encourage filmmakers to get all their info about carving out their digital rights. Make sure you have control of your film and give yourself the opportunity to go to lots of places, there's a number of VOD sites out there, and Busk is one of them." (buskfilms.com)