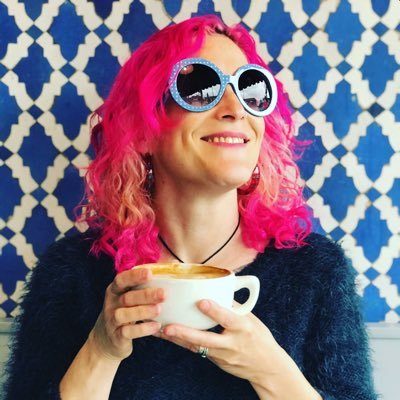 IVFU is a new podcast exploring the pain, joy, angst and love of trying to make a family the "new-fashioned" way, hosted by award-winning singer-songwriter, Moth storyteller and Edinburgh Fringe performer Sam Shaber.
Have you ever wanted something so badly that it feels like all you can talk about? That's what trying to have a baby felt like to singer-songwriter/storyteller Sam Shaber.
In IVFU, a new podcast from Inside Voices, Sam explores the multitude of ways families are made today, in what she describes as the "new-fashioned way". From intended parents (gay, straight and single), to egg donors, adoptive and transracial parents, and more, you'll hear honest, uninhibited conversations about travelling the sometimes very rocky path to making a family – all while Sam is on her own journey to have a baby through surrogacy.
"I created this podcast to invite people from all backgrounds to share their stories, their struggle and their resilience through it all," Sam says. "IVFU definitely isn't sappy or maudlin, it's more about the raw space that's created on this journey, where sometimes you just have to laugh. Or vent. Or drink wine and eat chocolate. We do all of that on this pod."
Sam believes IVFU can fill a gap in the podcasting world by creating a place where those struggling to make a family can talk openly and support each other through candour and humour.  "When you have a connection based on shared experience, amazing things can happen," she says.
There's a lot to advocate for in the "new-fashioned" family space and IVFU might just be the podcast to do it. Uniting the diverse voices who navigate the fertility journey can affect real change personally, culturally, governmental, and political.
During the series, you'll hear from a gay couple for whom IVF is an essential part of their family-making plans, an egg donor who wanted to help LGBT couples create their families, a single woman doing IVF while also advocating for fertility health care reform, adoptive parents who ended up finding their families in the most unexpected places, and more. You'll also follow the ups and downs of Sam's journey and the unique relationship she builds with her own surrogate.
Each episode begins with a live excerpt performed by Sam at story-telling events in Los Angeles and New York, such as Rant and Rave and the Moth. Often funny and always revealing, these live pieces bring the listener into the room as Sam shares her personal connection to the experience of trying to get something you really, really want. An experience we've all had at some point in our lives.
In the first episode of IVFU, available everywhere today, Sam talks candidly with her good friend Steph, a five-year IVF veteran and New York-based high school counsellor, about that brutal phrase "advanced maternal age," yoga retreats, annoying things people say, marriage, infertility rage, and the love of friends.