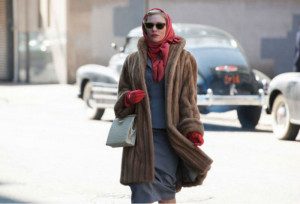 This year's popular lesbian flick Carol is a fashionista's dream, full of sleek 1950's flair and attitude.
Carol, the recent and critically-acclaimed Todd Haynes' movie based on Patricia Highsmith's lesbian love novel The Price Of Salt, is a fashionista's drool fest.
Set in hoity-toity 1950's New York City and suburban New Jersey, clothing choices capture Cate Blanchett's titular cougar-character, Carol, in opulent furs, while capitulating catch Rooney Mara dances away with our hearts in schoolgirl street style.
While the film received Oscar nods, articles from the Guardian to Harper's to WWD have justifiably made much of award-winning costume designer Sandy Powell's perfect execution of mid-century garb. The film's overall look communicates distinctions of class, age and aesthetic differences between the two wildly divergent women. A quick look at the film's trailer will have you mentally trying on high style.
What can today's aspirational and style-savvy amazon take away from this latter-day lesbian love story? The textures of Carol's clothing are delicious, as evidenced by Therese's compulsion to touch Carol's coats, sweaters, dresses. (OK, maybe she has the compulsion to touch the woman, not merely the clothes.) Channel your lust for Carol's bold brooches, coral scarves and decidedly bold lipstick choices. (Chanel Coromandel and Incandescent, if you happen to have Cate Blanchett's colouring.) These choices will carry the day for women willing to make a statement.
Which Carol admirers will flaunt the generational divide between the last century and this? Bet on the most winning of Carol-trends for today:
Pick plaids, flats and jaunty berets. All convey timeless freedom.
Carol's ex, Abby, ups classic normcore fare when she marries a brown plaid jacket with a striped scarf in complementary tones. Follow suit.
Pattern yourself after Carol post-divorce, and go for garments allowing for longer strides, larger gestures, self-determining sexualisation and self-expression. Take note, a society that is pinched and restrictive often supports female fashion that inhibits movement.
Collarbones exposed by boatnecks are tempting. Try it!
Signature pieces (a blonde fur coat, a Santa hat) are likely to lead to hot sex and long road trips. Have fun out there, but buyer beware.