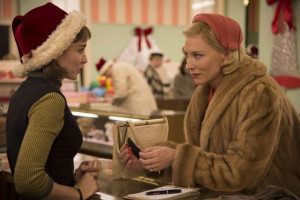 The artistic lesbian film Carol, by Todd Haynes, tells the story of two very different women who fall deeply in love in 1950's New York.
Coming back from a successful first season in 2015, Sydney Film Festival returns to Casula Powerhouse with monthly screenings on the first Friday of every month. The season kicks off on Friday 5 February with the screening of the Oscar-nominated film Carol.
"As a lover of cinema, I am delighted to see the growing relationship between Sydney Film Festival and Casula Powerhouse. Bringing such award-winning films to Liverpool is a testament to the growth, diversity and sophistication that makes us the Great South West," says Liverpool Mayor Ned Mannoun.
Based on Patricia Highsmith's novella, Carol tells the touching story of the burgeoning relationship between two very different women in 1950's New York. One is a girl in her 20's working in a department store who dreams of a more fulfilling life; the other: a wife trapped in a loveless, moneyed marriage desperate to break free.
Sydney Film Festival Director Nashen Moodley says he couldn't think of a better movie to open the season. "Featuring Australia's sweetheart, Cate Blanchett, and having been nominated for the Palm d'Or at last year's Cannes Film Festival, Carol is the perfect film open this year's Sydney Film Festival at Casula Powerhouse season."
Casula Powerhouse Arts Centre Director Kiersten Fishburn notes the festivities for the opening, "What better way to open the festival than with an award-winning film and canapés? It wouldn't be an opening without plenty of delicious food!"