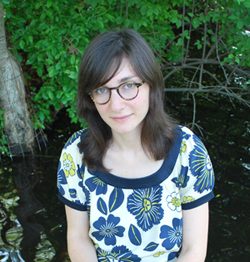 Melanie Bilenker's art imitates life.
For years, Melanie Bilenker had been collecting photos depicting people doing ordinary things. She became interested in looking at people's lives through the camera lens, in the moment of the snapshot. Now, Bilenker marries her curiosity about the mundane with her love of antique jewellery in her unique creations—jewellery illustrated using single strands of her own hair set into epoxy resin.
"The Victorians kept lockets of hair and miniature portraits painted with ground hair and pigment to secure the memory of lost love. In much the same way, I secure my memories through photographic images rendered in lines of my own hair, the physical remnants. I do not reproduce events, but quiet minutes, the mundane, the domestic, the ordinary moments," she says of her work.
At 31 years old, this native New Yorker has lived in Philadelphia for 13 years. Her work has garnered several awards and fellowships and is in the permanent collections of the Metropolitan Museum of Art in New York, the Philadelphia Museum of Art and Boston's Museum of Fine Arts.
Though her pieces have made a splash in the art world, she originally thought of her work as part of the craft movement. She began making her jewellery to sell to people looking for one-of-a-kind handmade pieces. Now, she says her work has begun to appeal to young people with an interest in design.
Bilenker relies on her own photographs for inspiration these days, using a tripod to capture the quick seconds of her everyday life. "I will be in the middle of boiling water with the camera on a tripod, just in case," she says.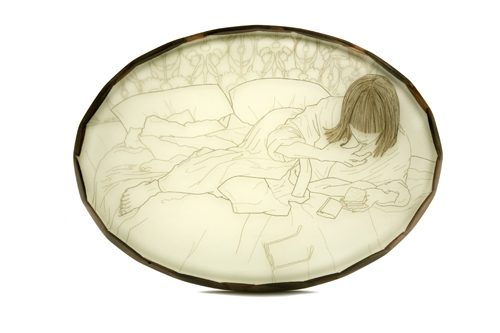 Taken as a whole, Bilenker sees her photographs as a valuable record of how she's lived her life.
"I have a really terrible memory, so I think in some sense it's about trying to remember those moments—they are what make up our lives and they are also universal," she explains. (melaniebilenker.com)