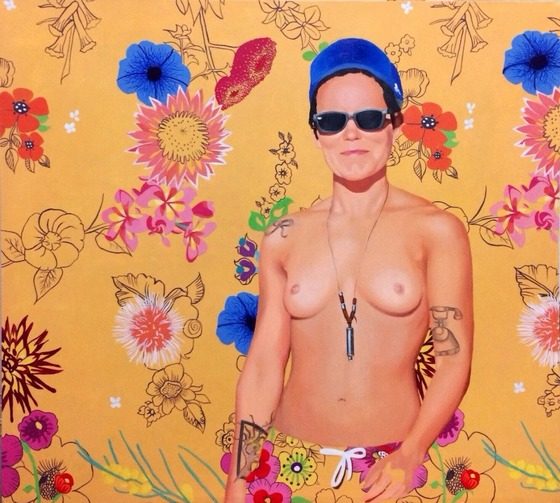 Kim Leutwyler has the art and the exhibits, now she needs the funds.
Her paintings caught the eye of three galleries seeking LGBT artists to display work during Melbourne's annual Midsumma celebration (January 2014) and Sydney Mardis Gras (March 2014).  Leutwyler is known for her large-scale figure paintings of queer-identified and queer-supportive women.
Leutwyler has launched a Kickstarter campaign that runs now through October 17 to raise funds to support her exhibitions. Backers of this Kickstarter project will receive rewards ranging from original artwork to items that feature her paintings such as prints, T's, tanks, cases, jumpers, throw pillows and more. If the project does not reach 100% of her goal by October 17th she will not receive any funding.
About the Exhibitions
Leutwyler has secured three upcoming shows in Sydney and Melbourne.
The first will be hosted at Platform72, a Sydney exhibition space that is part of gallery-part retail. Leutwyler will display her art and merchandise in the retail space during the weeks leading up to Mardis Gras (March 2014), an annual LGBT pride parade and festival in Sydney, attended by hundreds of thousands of people from around the globe. Leutwyler will also be participating in public art & ephemeral events and/or displaying work in a solo show at the gallery.
The second show is at Gasworks, a not for profit community arts facility located in Melbourne that presents an annual program of events. The exhibit is called The Comfort Zone and will be held from 15 January – to 2 February 2014. The exhibit will be part of the full program of Midsumma, Melbourne's annual LGBTQ Festival.
The third exhibit (also during Midsumma) will be at 1 Spring Street Gallery in Melbourne, and is titled Inquisitarium;  "Enter the world of the Inquisitarium where thoughts wander and minds are lost. We all seek to belong in life and strive to be treated as equals. But it is only through our minds, as unique and fragile as they are that we can truly be ourselves."— Inquisitarium statement
About the artist, Kim Leutwyler
Kim Leutwyler is an American artist currently living in Sydney, Australia. She creates large scale figure paintings of LGBTQ-identified women, most recently focusing on those who have impacted her life in some way. You can check out her work and information at: http://kimleutwyler.com