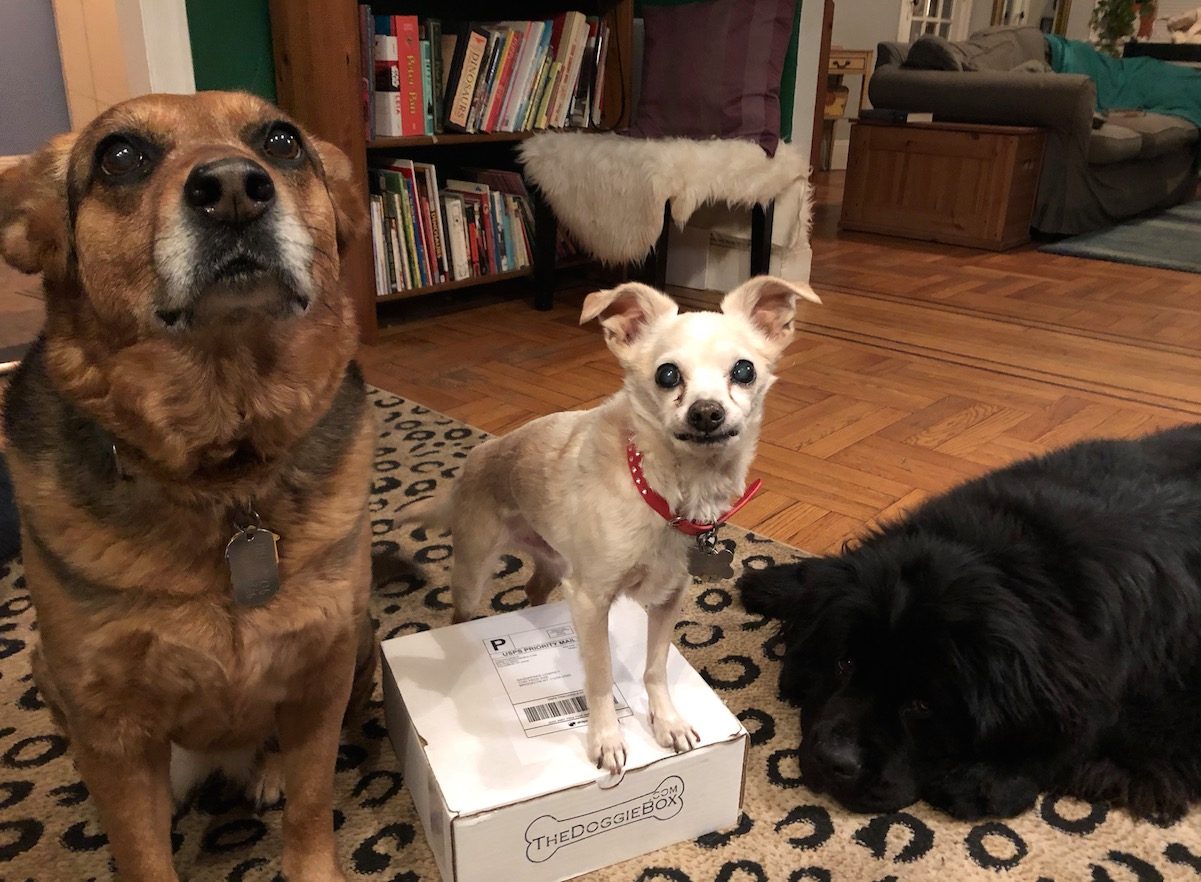 Here's our review of this gay-owned business.
This month my pups (and I) got the opportunity to review the super cute product from a fantastic gay owned business, The Doggie Box! I like monthly subscription boxes in general, because they are a great way to try out new products, plus it's always fun to get surprises in the mail. With three dogs I can never have too many treats or too many toys so I JUMPED at the opportunity to have my dogs review The Doggie Box!
When The Doggie Box arrived my dogs were really excited. They could smell the delicious treats inside, and knew that the box was for them! I let my dogs explore the box and inside they found three kinds of  treats and three toys.
The fuzzy pink toy in the picture has been extremely popular with both of my big dogs and the alfalfa bites, and coconut cookies are current favorites with all my dogs. Neither of these are types of cookies I would have thought to purchase if they hadn't come in The Doggie Box but am going to have to purchase again. Finding new favorites is something I love about subscription boxes.
After sending my pups their own box Jeff Dyer the owner of The Doggie Box talked with me about about what inspired the company, and what sets them apart from other subscription boxes for dogs:
How did you get the idea for The Doggie Box?
I have always wanted to work with dogs – so during college I did an assignment about opening a Doggie Day Care. During the research process I realized I was highly allergic to certain types of dogs. Fast forward about eight years. I was wanting to add a doggie into my life.  It took me about two years to find the right one for me. Her name is Ryin Elizabeth and she is a black standard poodle. I quickly found that just going to the big box companies to buy her treats was boring. I would research small businesses and make sure they sourced their ingredients and made them here in the USA. I then started to connect the dots and realized I can not be the only person doing this. So that is when I put it all together and started TheDoggieBox.com
What makes The Doggie Box different from other dog subscription boxes?
We source from small business owners whenever possible.  It is our way to make sure we are supporting small business and local families.  Our treats also are 100% made in the USA.  Other box companies source from outside the USA for some of their treats.  From the news media; we hear to many times about how dog treats made in other countries are making our dogs sick — it is not worth the risk!!
What does being a gay owned company mean to you?
I am 44 so I came from an era where you had to hide being gay.  In 2018 we see a lot of basic rights finally being granted to our community. Being able to promote ourselves as a gay owned small business for 2018 is something I never thought I would see in my lifetime. I am so thankful for all the individuals who have paved the way!!
And then of course, I wanted to know about Jeff's dogs:
We have a Standard Poodle, 13 years old this June. She is my best friend and my shadow! Her name is Ryin Elizabeth.  2017 was a rough year. She got cancer twice and pneumonia! She is the best dog in the world! We have a rescue dog, she is part schnauzer and mix of something else. Her name is Lexi.  Lexi was given up at least two other times before we found her. Her skin was nasty with scabs, and her ears was so infected and painful that she would not play, bark or run. We immediately knew we had to save her. We took her in, got her to a vet immediately and got her all fixed up.  She is an awesome addition to our family!