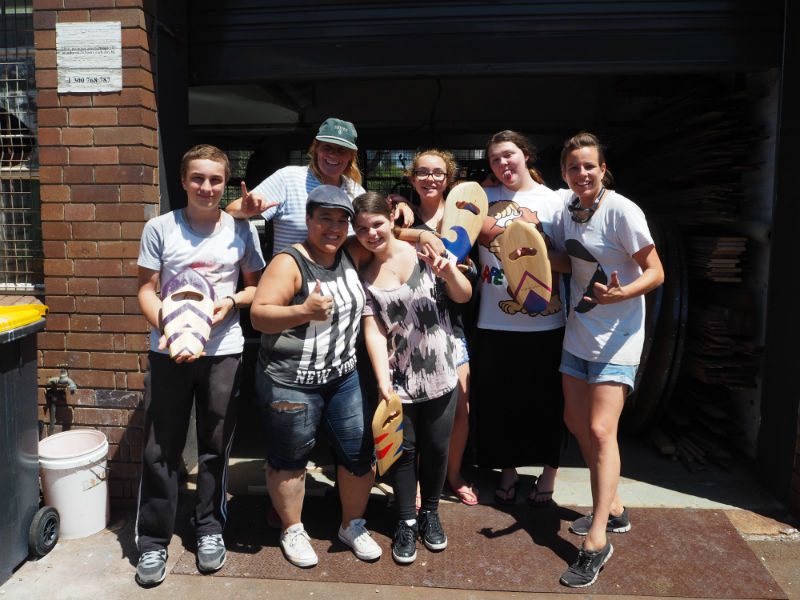 Local business supports local youth to create and connect.
In 2015, two women surfers from Bondi, Emily Walpole, and Georgia Kite, decided to start building sustainable handmade wooden surf craft. These included surfboards, bodyboards, belly boards and hand surfers.
"We started with building boards for friends," co-founder Georgia explains, "Then people wanted to learn how to do it for themselves, so we set up our first workshop for four of our mates in the backyard. Over the course of four hours, they built their own and that was it! We had begun."
Georgia and Emily's experiments quickly migrated to a fully functional woodworking studio in Botany, and the exercise was dubbed Surf Planks.
The aim of the Surf Planks workshops, as they now operate, is to provide skills and training for people to build their own surf craft using sustainable techniques, materials and traditional woodworking methods.
They aim to use only sustainable materials sourced from local growers. Palownia wood, sourced from the North coast of NSW, is used for the boards. It is known for its sustainable growth and seaworthy attributes, buoyancy and hardiness.
In 2016, the Surf Planks team decided it was time to give back and partnered with The Shack Youth Services. The Shack is part of the Benevolent Society, which provides services and support for youth in the local community.
Surf Planks delivered two full-day workshops at no cost, providing tools, materials and the know-how to youth at risk. Giving them valuable skills and hands-on training in woodwork, all participants left the first workshop with completed hand surfers and big smiles.
"There's no delete button or Crtl Z in the workshop. That's why this sort of creative process is so good and so challenging. Seeing the young people challenge themselves and build self confidence was amazing," says co-founder Emily.

Jennifer Cockburn from The Shack Youth Services adds, "So many young people in the Eastern Suburbs have a beautiful connection with the water, for them to make and design their own hand surfer is just amazing!"