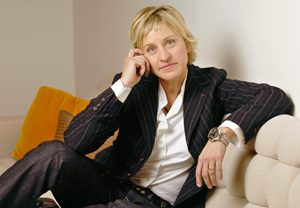 Plus, Ellen jumps on the OITNB bandwagon and new music videos from Naya Rivera and Tegan and Sara.
With people going crazy for Orange Is the New Black, it's no wonder that everyone wants to get in on the show. Who better to play a part than Ellen? We think she deserves a recurring role! [Afterellen]
Naya Rivera (Glee's Santana) released a lyric video for her new single Sorry. It shows so little, but so much at the same time. Watch closely. [Rollingstone]

Showtime's new series Masters of Sex put the full season premiere online. The show is based on real-life researchers who set out to discover all the ins and outs of sex and sexuality. The super cute Annaleigh Ashford plays a lesbian prostitute in the first three episodes. Watch the pilot here.
Madonna announced the debut day of her current project, "Art for Freedom." The 17-minute video will premiere on Sept. 24 and will promote freedom of expression while fighting oppression and intolerance. [Huffingtonpost]
How many of you out there have ended a relationship via text? If that's you, check out Tegan and Sara's Goodbye, Goodbye video for some text-heavy breakups. The out singers announced the new video on their website today. [Shewired]
And because we know you want more Tegan and Sara, here's their Closer video, but this time it's with a bunch of adorable dogs. [Buzzfeed]

Changes in health care have been a long time coming, but will soon be taking place. If you or your significant other are unsure about anything regarding "Obamacare," take a look at the Out2Enroll campaign, whose initiative is to educate and help the LGBT community on the said matter. Stay healthy, ladies! [Autostraddle]
Rosie O'Donnell is joining the cast of The Fosters! Her character, Rita Hendricks, works in the foster care system and plays a supportive role in the Foster family. The part sounds great for O'Donnell, who is a foster and adoptive parent in real life. [Hollywoodreporter]
Bex Taylor-Klaus (The Killing) has a new genderqueer role on Showtime's House of Lies. She'll be playing a genderqueer basketball player in the show. Bex is no stranger to playing queer roles, though. Bullet, her character in The Killing, was (R.I.P. Bullet) a lesbian. [Shewired]
The creative team of DC Comic's Batwoman decided to quit citing—among other things—the fact that the lesbian superhero who earlier this year proposed to her girlfriend Maggie, would never be able to actually go through with the wedding. Marc Andreyko was announced as the new writer for the series at the Baltimore Comic-con earlier this month. [Buzzfeed]
Sara Gilbert sat down on The Talk and genuinely recalled her story about how dating Johnathan Galeki helped her realize she was a lesbian. Gilbert was completely real and we give props to her for being so open. On a side note- Galeki sounds like a real sweetheart.  [Huffingtonpost]