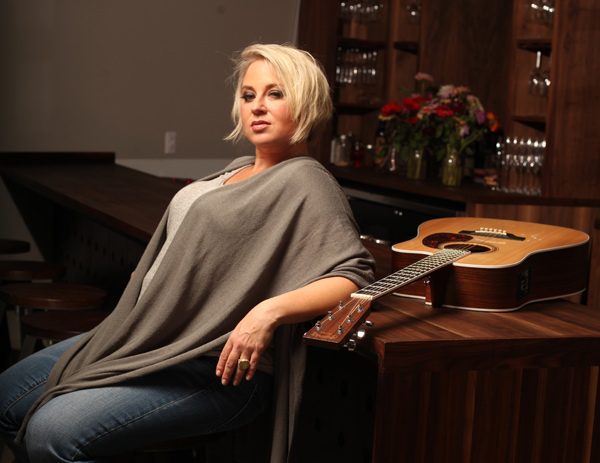 Plus, Pauley Perrette co-directs a short for the Trevor Project and Ellen scares her staff.
Singer Kristine Mills will be performing at The Metropolitan Room on Saturday, Oct. 26! Mills is based in Houston but frequents the Big Apple every few months to spread awareness and support through her inspiring music. Read more about the LGBT and women's rights advocate here, and go to metropolitanroom.com to buy tickets to her upcoming show. [kristinemillsmusic]
Angela Robinson, writer and producer of Girltrash: All Night Long, is publicly no longer associating herself with the film or with Power-Up. Robinson released the following statement
"Girltrash!" is a project close to my heart.
I was trying to find a way to make affordable, quality lesbian entertainment and develop a brand that would encompass web series, movies, television, graphic novels and stage musicals.  To this end, after first making a web series and penning a graphic novel, I produced "Girltrash: All Night Long" with Stacy Codikow.
I love the movie and each and every person that tirelessly worked on this project – the crew and mentees that donated their time and energy for free or for cut rates, the incredible musicians, Lisa Rieffel and Johnny Dunn, who wrote fantastic songs, the awesome actors who worked all night long for months on end, Luke Tierney, the composer and Chris Hill, the editor, and of course, Alex Kondracke, the amazing director. I am extremely proud of the work that was done.
But POWER UP is presenting a version of the film that I have not seen, that is unfinished and that has not been creatively approved by me and as a result, I do not support nor validate any screenings or commercial sales of "Girltrash: All Night Long" at this time.
Working with Stacy Codikow and POWER UP has been, without a doubt, the worst experience of my career. Because Stacy has been so horrible I will never again be involved in any project in which Stacy Codikow or POWER UP is involved."
Girltrash: All Night Long, is set to be released on DVD on Dec. 15.
Question of the day: Which affects the "sanctity of marriage" more- same-sex marriage or the 12-week reality TV show The Bachelor, where couples plan to tie the knot by the end of the series? This ridiculous question among other topics will be discussed this Sunday on Oprah's Next Chapter: Gay Hollywood. Out actors, Wanda Sykes, Jesse Tyler Ferguson, and Dan Bucatinsky will have a round table discussion of sorts that you can't miss out on. The full show will air at 9/8c on OWN, but you can check out some clips beforehand over at The Advocate.
Joan Jett and The Blackhearts released a video for their rock 'n' roll hit "Any Weather" this morning. At the end of last month, Jett put out a new music collection for the first time in almost 10 years. What she released was worth the wait, though. Foo Fighters Dave Grohl co-wrote the song and recorded it with Jett. [yahoo]

"You don't have to ask anyone's permission to be yourself" is the heartwarming message that this video puts across. Actor Pauley Perrette co-directed the short Jenny for the Trevor Project. Watch it through to the end, which is sure to procure an "aww" moment from any viewer. [afterellen]
Hey Arrested Development and Portia de Rossi fans, the show's cast will be on Inside the Actor's Studio on Bravo, Nov. 7! The actors will be discussing the show and some insider, behind-the-scenes facts. You'll also find out which episodes and scenes are the casts' favourites. [huffingtonpost]
Ellen DeGeneres is producing a one-hour drama, Players, for CW. This period piece takes place in the Golden Age of Hollywood and will be written in part by out writer Nina Fiore. The drama will follow a woman across the country on her way to LA to avenge her sister's death. Stay tuned! [shewired]
Since no one can ever get enough of Ellen, watch this laugh-so-hard-you-cry video she made of her writer and executive producer going through a Walking Dead themed haunted house. It's sure to get you in the Halloween spirit. [buzzfeed]