And they've released a cute as hell music video for marriage equality!
We all know how powerful a good song can be – it can lift you out of a bad mood, take you to a totally different place, and completely change your perceptions about the place you're in when you're listening to it.
Also, how good is being gay, having gay mates, and being part of one of the most accepting, politically engaged and fun communities on the planet?
What if you could combine these two good things?
Sydney Gay & Lesbian Choir is currently seeking Expressions of Interest for a dynamic, well-organised and flexible Music Director to develop the skills of members to perform at their best and to ensure leadership in defining the musical direction of the Choir.
Sydney Gay & Lesbian Choir (SGLC) is one of Australia's most popular community choirs with over 80 active singing members. It welcomes singers without audition and regardless of their sexuality, gender identity or music experience. Sydney Gay & Lesbian Choir strives for musical excellence and undertakes a wide range of repertoire which has delighted thousands of people over our 25 year history.
The Choir rehearses on Thursday evenings in Glebe between 7 and 10pm.

This part time position requires a commitment of around 15 hours a week
Responsibilities include:
Prepare rehearse and conduct the Choir in regular rehearsals and the majority of public performances, special events and recording sessions as required
Lead and inspire the members toward the highest musical standards
Manage and lead the Choir musical team
Determine the repertoire in consultation with the musical team and Committee
Contribute to the artistic, administrative, budgetary and technical activities of the Choir
Establish and maintain relationships with other Arts and Community organisations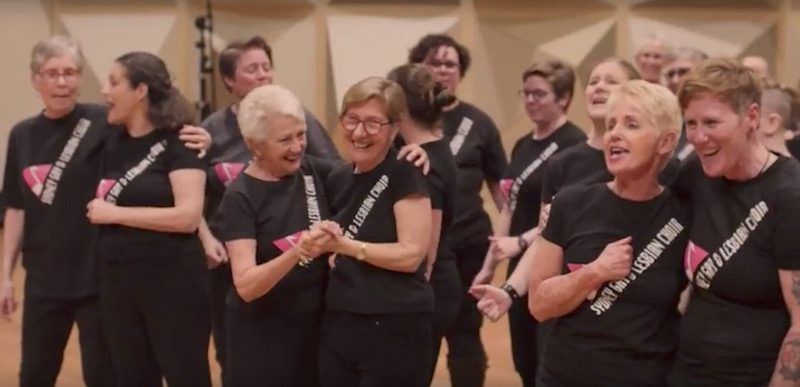 I am actually grinning cheek to cheek looking at this photo
Applicants are required to:
Have experience as a choral conductor and preferably hold relevant qualifications.
Have a thorough knowledge of vocal technique, experience in a range of musical genres and complementary keyboard skills
Demonstrate a structured approach to leading rehearsals, which address the needs of singers who have a diverse range of experience
Be able to demonstrate clear communication, negotiation and motivational skills that are essential when working within a large group of people and when representing the choir on the public stage.
Experience of working with a volunteer and LGBTQI organisations would be an advantage.
Remuneration
$25,000 per annum plus super and bonus based on a 15 hour week.
Application process:
Submit your CV and an Expression of Interest including your experience as it relates to the position requirements and your vision for the choir.  A short video of you conducting would also be appreciated. Applications to be sent via email to choir@sglc.org.
Applications will be reviewed in early October and shortlisted applicants will be invited to an interview in October and will also be required to audition with the choir during a rehearsal in November.
Applications close: 5pm Friday 29 September 2017.
And in case you feel like watching a big gay musical number after reading this piece, we're just going to leave this here…