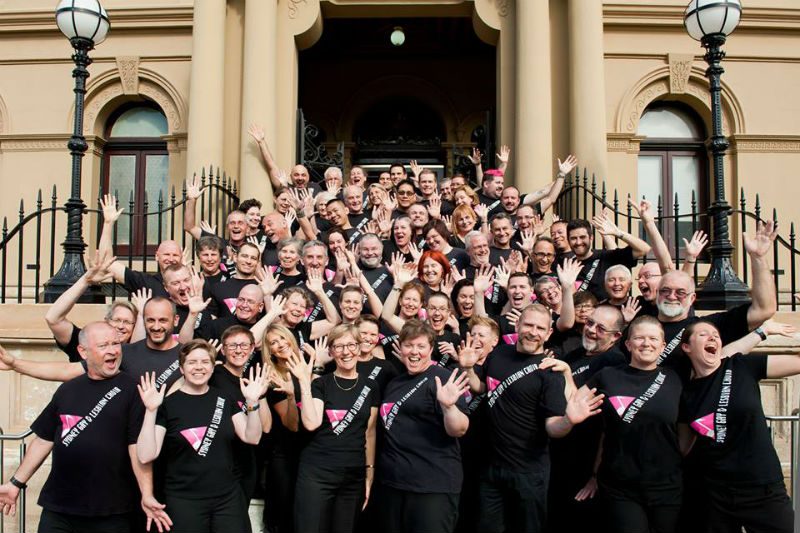 This spectacular concert includes an exhibition as well as six world premieres of music by Australian composers.
On Sunday 23 October, Sydney Gay & Lesbian Choir (SGLC) will celebrate 25 wonderful years with a spectacular concert and exhibition at Paddington Town Hall.
SGLC was formed in October 1990 following a letter from Rob Holland in the Sydney Star Observer. He was inspired by performing with the chorus at the Gay Games in Vancouver in 1990 and remains an active member today.
In August 1992 the choir competed in the Australian National Choral Championships (ANCC) in Wagga Wagga. The organisers asked the choir to remove the words "Gay & Lesbian" and compete under a different name. Refusing, the choir proceeded to win the championship in the community choir section, which received national media coverage.
Silver Linings will feature popular classics from the diverse repertoire of SGLC over the past 25 years as well as 6 world premieres of music by Australian composers. Five of the new works were commissioned by SGLC to commemorate the anniversary. Composers include Gordon Hamilton, Anna Jacobs, Dr Kathleen McGuire, Joseph Twist, and Dan Walker. The sixth premiere will be of a piece gifted to the choir by ARIA-award winning composer and performer Sally Whitwell.
Dr Sarah Penicka-Smith, SGLC's Music Director, says each composition reflects a range of emotions and experiences relevant to SGLC and to Australia's LGBTQI community. Joseph Twist has dedicated his inspirational work, 'Imagine', to those affected by the tragic mass shooting in Orlando.
SGLC will also introduce two new works written in memory of beloved accompanist Gareth Chan, who died tragically in January.
"We've really felt the healing power of choral singing this year in our recovery from personal and global tragedies," says Dr Penicka-Smith. In 2016, SGLC has performed in Wagga Wagga and Young, the local neighbourhood centre, Orlando tribute concerts, and at the Chris O'Brien Lifehouse.
SGLC has been an important musical ambassador for the LGBTIQ community, says SGLC President Neil Hendry.
Hendry highlights how SGLC has been using songs to break down barriers since the choir's inception. "We've always wanted to move from tolerance to acceptance to audience participation—we didn't just want our audience to clap politely at the end of a concert; we wanted them to clap along, to cheer, to have a great time and to become allies."
The gala concert and exhibition will allow an opportunity to reflect on and respect the choir and its members' and collaborators' journey.
As one of Australia's most popular community choirs, SGLC has performed around Australia and toured Europe, New Zealand and North America.
More Information:
When: Sunday 23 October 2016, 5:30 PM
Where: Paddington Town Hall, 249 Oxford St
Price:  $40 Full/ $35 Concession & Children
Visit Sydney Gay & Lesbian Choir at their Official Website