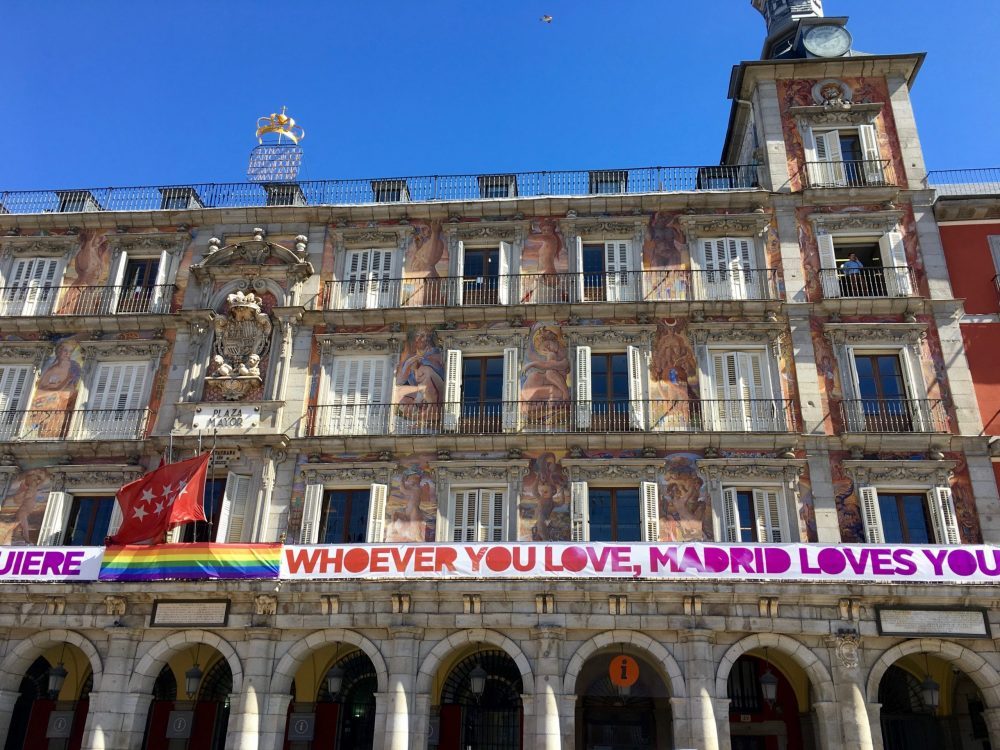 With the tagline 'Whoever You Love, Madrid Loves You', Spain's cultural capital showers two million people with glitter and rainbows.
Oh, Madrid. You love me—and I love you back. Te amo, Madrid!
The vibrant cultural capital of Spain (I know, Barcelona is amazing, too) attracts over 9 million visitors per year, and this year, World Pride saw an estimated 2 million visitors and participants. Madrid is in the top five most popular tourist cities in Europe, and it's the fastest-growing big city in terms of tourism.
This year, it went above and beyond to deliver a World Pride across 5 kilometres of the city's radius, and as a festival host, Madrid has set the bar very high for New York to follow with their World Pride in 2019.
Forty years ago, Spain was stifled by a dictatorship, and under General Francisco Franco, gay people were persecuted, imprisoned, and subject to electroshock torture. Visiting today, you would never know that—such is the city's commitment to freedom of identity and expression and its unabashed dedication to enjoying the good life. Today—after the success of a coalition movement of LGBT activists that included many women and feminists—90% of Spanish people feel no enmity toward LGBTQ people. Pride, or so local lesbian Ana Sostres tells me, "is for everyone. It's about the will to freedom."
This was the most significant World Pride ever held. From June 23 to July 2, Madrid became a beacon of freedom, an expression of modernity and diversity—and an altar to the Spanish lifestyle of creativity, culture, sunshine, wine, vibrant days and wild late nights. I was one of 26 journalists from 13 countries invited to the world's biggest party, and I am so grateful that I was there to see firsthand what Pride is, can, and should be.
How to match Madrid's warmth, inclusion and vibrancy? This was my third visit: Madrid always sparkles and shines as the high-altitude crown of Spain. This country has the highest approval rating for homosexuality and same-sex marriage of any other nation in the world. But this summer it simply glittered and glowed like it never has before.
Where to stay
For this visit, I took my lodgings in the city centre, just a short walk from all the action of barrio Chueca (the gay district). The H10 Villa de la Reina boutique hotel was a lovely base from which to explore the city. Party poopers will possibly not enjoy its central location on the "Broadway" of Madrid that is the Gran Via—curmudgeons may resist the charms of the chic deluxe room with industrial Art Deco accents and a gorgeous private terrace overlooking the city's terracotta rooftops to the mountains—and the bustling and colourful laneways below, often active until 2 a.m.
Luckily, I'm not a curmudgeon, and I indulged in the necessity of a siesta or several, putting me in the mood for everything the city had to offer, day and night. The H10 also has a delightful lobby and excellent bar, perfect for having a glass of cava (Spanish sparkling wine) before heading out into the bustling cityscape.
Another lovely spot—just across the way, overlooking the Plaza de Pedro Zerolo—is the very swish Room Mate Oscar Hotel. This boutique hotel with a rooftop pool and views over Chueca is a gay man's dream. But in Spain, where art, design and partying are incorporated into daily life, everything is entirely at a gold gay standard, and well-travelled lesbians know this. During my visits to Madrid, there has been no shortage of las chicas getting their fair share of the action. Even if you aren't staying at the Oscar, head there for a glass of wine and sunshine on the roof and feel on top of the (gay) world. It's gay-owned and dedicated to enriching the LGBTQ community in the nicest possible way—hospitality.
Things to see and do
Take a walking tour to old town Madrid, also known as el Madrid de Los Austrias (or of the Habsburgs), the old centre of Madrid was built during the reign of the Habsburg Dynasty and is located south of the Calle Mayor, in between the Metro stations Sol and Opera. The Plaza Mayor is a large and quite magnificent historic public square that is today a tourist hub with hawkers and performers—it's also where the main information centre is located and was decorated festively for Pride, sending out a warm message of welcome.
Madrid is all about the art. Art is one of the cultural arteries that runs through this city. It has some of the best-established museums worldwide, famous for their prestigious international collections, and some of the most grassroots and innovative exhibits, too. On the Paseo del Prado, at the Thyssen-Bornemisza Museum, you can take an "Inclusive Love" tour of modern art by one of the museum's fine arts and restoration experts, during which she can point out historical examples of genderqueer identity, subversion and androgyny that is present in artworks and the stories behind them.
At the CentroCentro Cultural Centre at the Plaza de Cibeles is an exhibition on the revolutionary history of LGBT activism before, during and after AIDS. "Subversives: 40 Years of LGBT Activism in Spain" is especially interesting because it reveals what Spanish lesbian activism and socializing looked like, along with the contemporary acceptance of trans individuals and their rights. The ephemera—pamphlets, periodicals, books, photos, t-shirts, zines, video—even an electro-shock machine once used for shock therapy on gay patients—is on display.
At Sala Alcala 31, "Canon" by the artist Mateo Maté demonstrates a subversion of the classical Greco-Roman sculptural canon. Androcentric modes of representation are challenged in beautifully neo-classical parodies that pose questions such as: can we make a marble nude of a black person, a pre-teen, a pregnant woman, or an old woman? Do these portrayals violate the canon, and if they do, how does that make us feel, and what do they do to the established and very white history of art?
Diversity is on display during Pride—not as a spectacle, not as a theory—but as a tangible part of the fabric of society. This art exhibit confirms that Madrid has no fear of inquiry regarding its reputation as a centre for art. Madrid can dish it out and take it. It's fought for this freedom. Whenever you visit, there is bound to be something spectacular on display.
The pride of all museums has to be the Prado Museum. This is the main Spanish national art museum, located in the very heart of Madrid. It is widely accepted to have one of the world's best and most comprehensive collections of European art, dating from the 12th century. A tour through the collection uncovers many queer delights, radical iconoclasts and iconographers—from Bosch to Goya. The works are so precious no photos are allowed. This is simply a feast for the eyes, in real-time, in real life. Like, you had to be there. Trust me, make the pilgrimage and go with it.
Where to eat and drink
Right near the Prado Museum is the excellent restaurant El Altillo at the NH Suecia Hotel, perfect for a sophisticated tapas lunch or fine dining—whichever you prefer. They also have a lovely and sunny rooftop bar, Attica, with views to the Sierra de Guadarrama, and luxe and cozy basement bar, Bar Hemingway, which has a very creative feel. This is the place to plot the next revolution. Oh, America, you wish!
La Botilleria Cafe de Oriente is a classic spot to get traditional Spanish entrees, plus they have very reasonably priced set menus. The restaurant is a block from the luminescent Royal Palace, a stunning feat of architecture that must be experienced while in Madrid. San Anton Market in the heart of the Chueca neighbourhood is the place to browse foodie curiosities but do head to the rooftop restaurant for dinner.
You'll be surrounded by locals having fun and contemporary works of art. Free Wi-Fi is a bonus and another very good reason to hang around and sample something yummy while checking your email and boasting on social!
For a taste of thoroughly modern Madrid, head to NuBel restaurant, next door to the Museo Nacional Centro de Arte Reina Sofia. NuBel is a space-age design dream all done out in red velvet, and the food is innovative, too, offering a healthy and contemporary twist on tapas.
If your style is more homely and you want that traditional comfort comida—complete with antique tiles, bread baskets and bowls of olives and perfectly mixed negronis—lunch at La Carmencita in a laneway in Chueca is the spot. This traditional and tiny Spanish taverna serves excellent and authentic favourites such as paella, or arroz de mariscos. It feels like home. Request a copa de vino blanca and you're all set!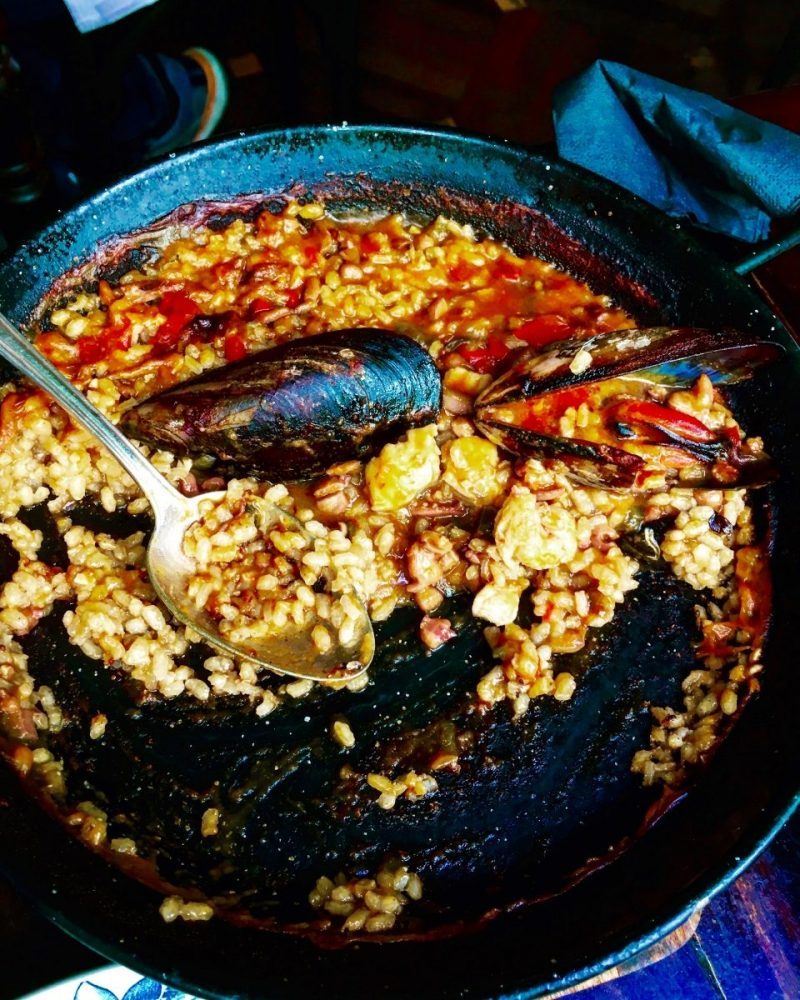 But why not don your finest and head out for date night? Cien Llaves Restaurante is a wedding-worthy venue, set amongst historic buildings and lovely gardens complete with a courtyard fountain. This is a great pick for romance on a hot night, and the food is light, chic and innovative—a nice alternative if you have been overindulging in gastronomical Madrid, which—let's face it—is not hard to do with so much excellent local produce such as jamon, or Iberian ham.
Pride and the city
Pride is everywhere in Madrid, from the iconic former post office built in 1904, which is festooned with a gigantic rainbow flag consisting of thousands of ribbons hand-sewn by hundreds of LGBTQ activists and allies, to over 30 pedestrian cross-walk lights that have same-sex couples configured into their signals, to buses with rainbow stickers proudly planted on their side mirrors. The official Tourist Information Center displayed a rainbow "i" sign in the Plaza Mayor.
Madrid put an impressive urban display of acceptance and diversity this World Pride at an official level, and it's genuine, given the city's leadership. "We're not just an LGBT-friendly destination," World Pride Madrid general co-ordinator Juan Carlos Alonso Reguero told the press. "We're a gay city and proud of it." The Mayor has revered feminist and LGBTQ ally Manuela Carmena—a retired Supreme Court judge who has spoken passionately about the need for sexual and minority diversity to make a city truly world-class.
There was no better place to truly understand the city's acceptance of LGBTQ lives than Madrid's World Pride Park Village—the official welcome site for all people—but popular especially with families and children, and offering live music, food stalls, information booths, all in a tranquil park environment.
But without a doubt, the major attraction and crowd pleaser was the Pride parade, which consisted of 53 floats and trucks on the move from around 5 PM to midnight, viewed by a crowd of around one million. The parade is about marching, partying, and a demonstration of visibility and a shared civic commitment to people's fundamental human rights.
The jewel in the crown was indeed the Puerta de Alcala and the World Pride closing ceremony. This neoclassical monument in the Plaza de la Independencia is an architectural symbol of every Spanish person's belief in freedom from oppression. It's a key to understanding why Spain has so thoroughly accepted LGBTQ rights and people—often ahead of any other country and at higher levels of approval.
The closing ceremony featured Ana Torroja from the legendary 1980s band Mecano. Looking every bit an Annie Lennox disco diva in a rainbow sequin coat, Torroja performed for an adoring cell phone-waving crowd, many moved to tears by this pop icon who was one of the first in Europe to sing of the love between women—in a song that was such a hit she also recorded it in French.
Women with women—mujeres con mujeres—are everywhere in Madrid. It's certainly nothing to be ashamed of, not even in a Latin country that has a reputation for machismo. Here is a culture that prizes personal liberty and the beauty of truth over other judgments. Heartening to me as a long-lived lesbian was the sight of many young women in the streets—some of them very young—celebrating and partying with their friends, both male and female, straight and gay. In Madrid, the city loves you no matter who you love.
And after the party is over, what's next for Madrid? "After it's all over, Madrid will find a new dream and continue its work fighting for international world Pride," says Juan Carlos. Pride or not, Madrid welcomes you and whoever you love all year round. Get in on the best European party at any time of year—get hip to Madrid.