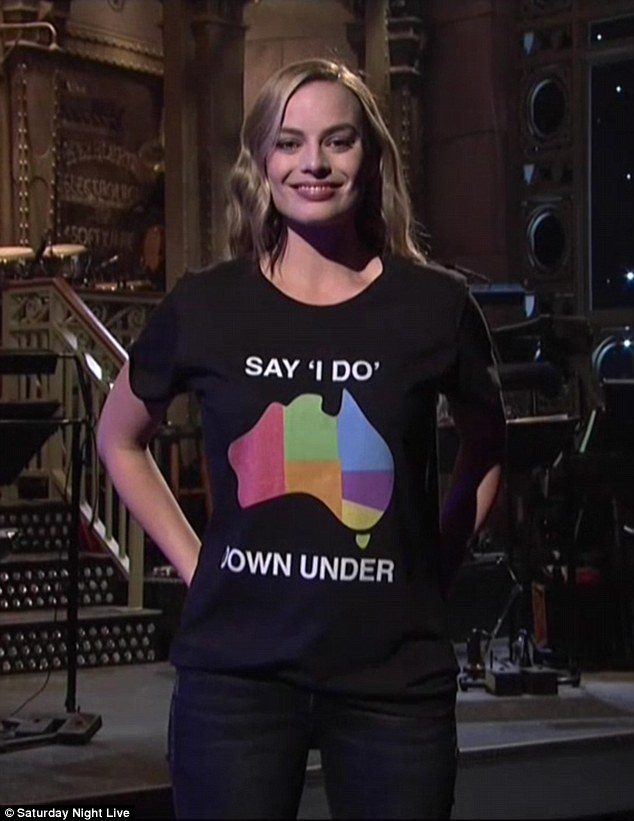 Suicide Squad actress Margot Robbie sends a powerful message and says 'I Do' on Saturday Night Live.
The Australian actress wore a bold T-shirt with a map of Australia in rainbow colours reading: "Say 'I Do' Down Under."
It happened as she was hosting US TV show, Saturday Night Live.
The Say 'I Do' Down Under campaign has been backed by Kylie Minogue's boyfriend, British actor Joshua Sasse.
On the campaign's website, Sasse wrote that he was shocked to discover same-sex marriage was still illegal in Australia.
"Let's raise our voice and public support for change," he wrote.
US television presenter Kelly Ripa and Jake Shears of the Scissor Sisters are also pictured wearing slogan tees on the campaign's Instagram page.
The same-sex marriage movement in Australia has suffered a setback recently, after Labor announced it would oppose Malcolm Turnbull's proposed plebiscite.