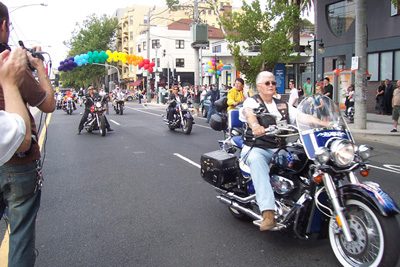 Melbourne's Dykes on Bikes is set to resume the iconic role it has played in the LGBT community.
Dykes on Bikes have a 16-year history in Victoria but they say they've recently "been through a period of instability." Back on stable ground with a new committee, they're refocused on core principles of friendship, respect, inclusion, and a love of riding motorbikes. Sounds good to us.
Newly elected President Chrissy Wells said, "We are keen to open the club to dyke or lesbian identified women who ride motorbikes, and will also offer associate membership to those who don't ride but would like to enjoy social events with DOB and support its aims. The club is hopeful that broader eligibility criteria will make membership viable for those who are not Melbourne-based, but still want to support and enjoy associating with DOB".
Historically, the club has been strongly identified as supporting the broader LGBT community, and women's issues, in particular, conducting successful fundraisers for causes such as breast cancer. "We are keen to return to that role in the community, to have an active presence and contribute to the lives of those in the LGBT world. We believe that DOB is synonymous with strong, independent, and capable women. We represent the history of the struggle for the right to claim our own identities, which is shared across the lesbian, gay, bi, and transgender communities".
The club has also formed a partnership with The Glasshouse Hotel. Meetings will be held there and hotel management is keen for DOB to make the venue it's home.