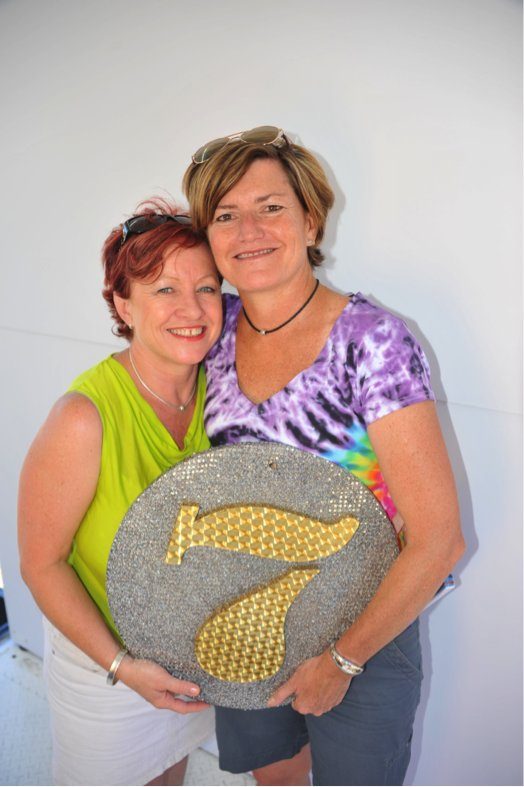 Tony Abbott's sister, Christine Forster and her partner of seven years, Virginia Edwards, took part in the campaign at Fair Day.
The couple were keen to display their commitment to each other
Durex the leading condom and lubricant brand has been announced as an official partner of Sydney Gay and Lesbian Mardi Gras 2014. To celebrate, Durex is encouraging same-sex couples to wear their love with pride this Mardi Gras!
To tie in with this exciting partnership Durex has revealed its 'Love Same Sex' initiative to celebrate and highlight Australians living and loving same-sex relationships. With the initiative just launched, Durex is encouraging couples to shout about the number of years that they have been in a committed relationship by taking to the Durex Australia Facebook page.
Couples are encouraged to pledge their 'Years of Commitment' to a unique counter and to upload a picture with their partner. Furthermore, the condom brand is encouraging participants to share the image to make their own positive message about same-sex relationship rights across Australia.
By taking part, people also have the chance to win one of the limited places on the first-ever Durex Mardi Gras float.
There is also another opportunity for couples to pledge their years of commitment on 22nd February 2014 at the Mardi Gras Harbour Party at the Durex photo booth.
At the booth, couples can take and share their photo for a chance to win a spot, or have their image to be displayed on the Durex Mardi Gras float.
The event will also provide an additional opportunity for participants to add their years of commitment to the counter.
On Saturday 1st March 2014, Australia will welcome the world-famous Mardi Gras festival, which will be broadcast around the world.
For the first time ever Durex will have an iconic float to bring the "Years of Commitment" counter to life to show the world how much it counts.
Plus hundreds of couples' photos will be featured on the Durex float and a further 25 couples will win a spot to march in the parade!