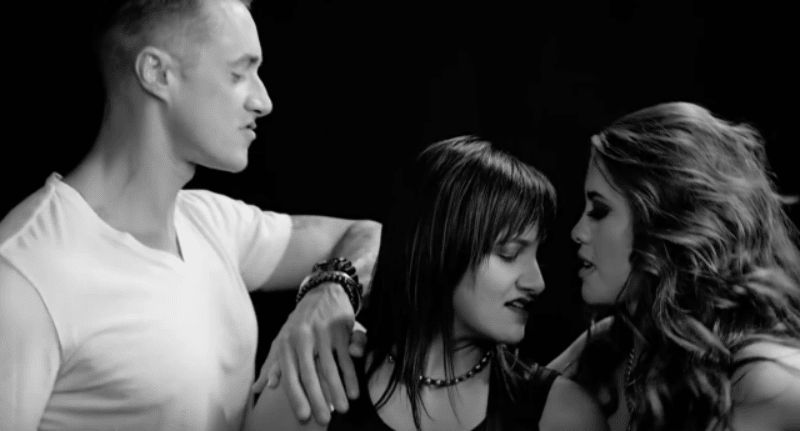 Why a lesbian singing about bisexuals while grinding a transman is important.
Early in June, indie recording artist Alicia Champion released the first official bisexual pop anthem. During a time where unity amongst the LGBTQ community is critical, Champion is singing about the one part of the community that is the least recognized or discussed.
The release of the song coincided with Pride Month, a time when many people come out to family and friends, many receiving the standard annoying response of "it's just a phase".  Many bisexuals receive this response as well, but it often comes from within the gay and lesbian community.
Although Bi received interest during the initial promotions, Champion found that many LGBTQ media outlets were hesitant about how readers would respond to a bisexual themed song.  Fans that identified as being bisexual, however, started flooding Champion's inbox and Tumblr account, many stating how proud they were to finally have a song of their own.
As Pride celebrations kicked off around the nation, Bi's popularity increased. However, following the tragedy at Pulse Nightclub in Orlando on June 12, Champion and many other artists in the middle of promotional campaigns, halted everything out of respect for the victims.
Champion said she also needed time to process what happened. Jody Taylor, Champion's manager, stated, "We were shocked and heartbroken as human beings, troubled and offended as members of the LGBTQ community. We witnessed the best in some and the jaw-dropping worst in others."
Fans began to reach out to Champion with messages stating, "we need to keep playing this song, we need to keep dancing" and "I am in high school and my friends all have Selene Gomez and Taylor Swift songs to play about boys they like, I had nothing until your song came out. Thank you for making me feel equal."
These messages inspired Champion to continue speaking about the importance of Bi. The song is a celebration for bisexuals, but the overall message is to allow yourself to e attracted to whoever you want to love.
One of the most powerful scenes shows Champion opposite transgender film star, Buck Angel. Champion says, "We have to find a way to dismiss the power in labels. Personally, I would identify as bisexual, but I think Buck is sexy as hell, and I am married to a woman. What does that make me? It makes me human. If we as a community are going to preach Love is Love, then we truly need to mean it."