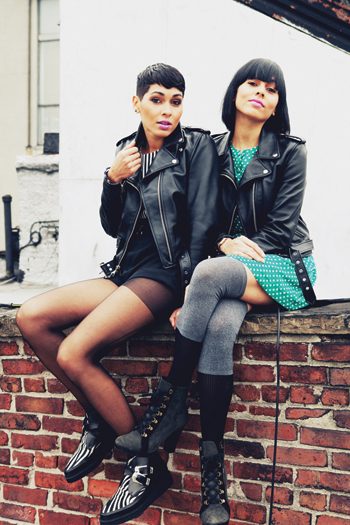 Meet this year's Dinah Shore headliners
Nicole and Natalie Albino, the talented twins are better known as Nina Sky, soared to the top of the charts with the hit "Move Ya Body"—and right into our big lesbian hearts. Since then we simply can't get enough of these soulful sisters.
They use their melodious voices to do more than just serenade us with backdrops of reggaeton, R&B and dance beats; they also are vocal in their stand for LGBT rights. And that's one note that hits close to home, as Nicole recently wed her partner, fashion designer Erin Magee, and is also the first Latina recording artist to publicly come out.
To add to their pro-lesbian cred, you can also catch them performing centre stage at this year's White Diamonds party at Club Skirts The Dinah 2012. The dreamy duo talks to us about musical inspirations, sisterly bond, and their newest album, The Other Side.
What are you most looking forward to while playing for The Dinah?
Natalie: Performing some new jams, the reaction of the audience, getting to see the Dinah Shore dynamic. We hear it's a great event!
We love your NOH8 campaign photos. What was your favourite part of the shoot?
Natalie: Thanks. My favourite part of the shoot was putting the NOH8 on my face.
Who is your celesbian idol?
Both: Oprah! [Laughs]
Natalie: Suze Orman and Teresa Weatherspoon.
Any pre-show rituals or good luck charms before going on stage?
Natalie: We used to do push up competitions backstage before shows with our security and anyone that wanted to join in. We never won. More recently, we just lay low and save all that energy for the stage—and the after-party!
What's on your iPod?
Nicole: My iPod is a crazy mix of everything from Broadway songs, TV theme songs, references of songs we're working on, and every music genre.
Natalie: What she said, a little bit of everything. The majority of mine is filled with R&B jams though.
What's the one thing you can't live without backstage?
Nicole: Groupies [Laughs].
Natalie: Candy
Do you have nicknames for each other and if so, where did they come from?
Nicole: I used to call Natalie Tita: Our grandma gave her the nickname when we were babies. When we were 16 she told me to quit it. Since then, she's just been, Nat.
Natalie: I kind of miss being called Tita. I call Nicole Nicolasa and Nico. If she's annoying me I'll call her Nicholas. She hates to be called Nicholas.
What was the inspiration behind your newest album?
Nicole: For The Other Side we wanted to record music that was fun and inspired by the music we listened to growing up in Queens, New York. It's a dance-influenced project with an R&B base. It's the first project we released independently without a major label and we are super excited about how it's been received by our fans.
Tell me about what's next for you.
Natalie: Our next project will be consistent with our previous release, The Other Side. It still has that dance influence, but it has more vocals, a little more vibe. Something for everyone. The first single is called "Daydreaming," Once you hear it you'll totally understand what I mean!
Tell us about a time your music came from a life experience?
Natalie: When "On Some Bullshit" was recorded, it was literally just that: on some bullshit. The first blowout ever, Nicole and I had an argument, and she refused to travel with me. We had sessions scheduled, so I ended up flying to Miami alone to record with Salaam Remi.
Salaam and I were trying to build a vibe and I believe at some point I just broke and kept on talking about how "I'm on some bullshit" and he said, "Fuck what you heard" and the chorus was created! We ended up writing the track about a relationship gone sour. And, after hearing the joint over the phone, Nicole flew in the next day to lay down the rap part, so it all worked out.